The Silent Patient – Alex Michaelides:
Alex Michaelides is born in Cyprus to a Greek father and English Mother. Michaelides now lives in England. He is a screenplay writer. The Silent Patient is his debut novel.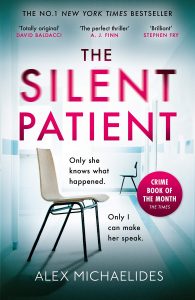 Story: Alicia Berenson is thirty-three years old. She adores her husband Gabriel. Gabriel is a photographer and Alicia is a painting artist. They are happily married for seven years. When Alicia's neighbor heard gunshots at Alicia's house she reported to the police. When Police came, Alicia was there and Gabriel was shot multiple times on his face. Alicia's hand-prints were on the murder weapon. Alicia stood stoically and did not utter any word to the police. Not on the day alone, even after six years she was silent. Alicia had a troubled childhood. Her younger cousin met her sometime before the murder. One old colleague of Alicia didn't want her to part with him. Gabriel's brother Max is physically attracted to Alicia. No therapy in the facility made Alicia speak and Psychiatrists lost their faith in Alicia. But Theo, a Psychotherapist who is also having a troubled childhood wants to bring back Alicia. He is having a troubled married life to worry about. Despite that, he keeps on trying but Alicia is as Silent as ever. But nobody is aware that Alicia is always keeping a diary secretly and it is going to speak on her behalf…
My thoughts: Michaelides is having a very good idea about writing a psychological thriller. The first sentence of the book will have the expected shock value. "Alex Berenson was thirty-three years old when she killed her husband". Some thrillers will move fast and lose its place in the middle but Michaelides is having the same grip till the end. Theo's characterization is made perfectly, especially his childhood. Alicia is a mystery throughout the book and after finishing the book also she is a mystery. Author's way of giving vague expressions and playing with the past and the present makes the novel more intriguing. Not a novel to be missed out for the readers of this genre.
The Hangman's Daughter – Oliver Pötzsch:
It is middle of the 17th century in a remote town of Germany, people are uncivilized. Uncivilized to kill a girl by hitting four times with a sword. Uncivilized to charge a midwife for witchcraft, for a murder of a boy even though the whole town knew she was innocent. They knew that she would not confess for a crime which she has not committed. But there are ways to make anybody to confess. How long could anybody withstand torture? Sometimes death is quite peaceful than torture. Seventy years before in the same town, there were rumors about witchcraft, which led to the killing of 63 innocent women and the whole town went to pandemonium. Now, a boy found killed with witch marks on his body, a midwife was charged for doing witchcraft and even after she was detained in custody the killings were not stopped. Hangman, Jakob Kuisl knew that the midwife was innocent. But to prove her innocence he has to find the real killers.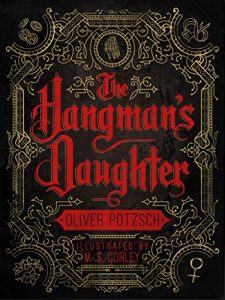 Hangman's daughter Magdalena and Young Physician Simon loved each other, even though both of them were aware that the custom of the town won't approve their marriage. Simon had decided to help the hangman to win over his heart for approving his love with his daughter. One secret was buried for a very long time. Council of the town wanted to put the blame on the midwife for all deaths and chaos. Will the truth come out finally? Oliver Pötzsch is a descendant of the Kuisls and from his grandfather archives, he has collected some facts and from that, he has developed this novel. Originally it was written in German and Lee Chadeayne has translated the book into English. This engrossing historical fiction will make us to time travel into a remote town of Germany during the Seventeenth Century. The portrayal of the Lead characters Jakob, Magdalena and Simon and the simplicity of the novel and the superstitions of the people at that time make this novel as a best seller.
The Poison of Love – K.R. Meera
Meera is a multi-award-winning writer and journalist. She has published short stories, novels and essays. In 2017, her The Poison of Love was published to ecstatic acclaim. Ministhy's translation of K.R. Meera's The Poison of Love has been widely lauded as a masterpiece. As the previous creations of K..R. Meera, this novel published in 2017 also focuses on childbirth, revenge and violence.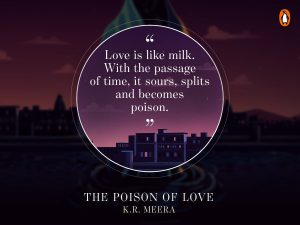 Story: The second topper of IIT gets engaged and she is attracted by the friend of her engaged partner and elopes with him a day before her marriage. This leads to the death of her mother. Her two sisters are forced to discontinue their studies to enter into marital life. She comes to know that, her husband is having thirty two lovers other than her.Her husband wants a divorce from her. Everything is lost for her by her snap decision. Nothing left for her except to avenge her husband.
My thoughts: This is not an ordinary novel. Not so easy to read too. "Love is like milk, beyond certain time, it will curdle and turn as poison." This is the first line of the story. Meera is a different kind of author. Right from the inner wrapper till the end, there are ants moving in rows and the ants swarming in search of the dead body. In Vrindhavan, all widows are Meeras. Yes. all the women who are disappointed in the name of love are Meeras. They are unable to leave the relationship till their last breath.
The Parcel – Anosh Irani:
Anosh Irani is an Indo-Canadian novelist and playwright. He was born and raised in Mumbai, just opposite Kamathipura, a noted red-light area in Mumbai. He published his debut novel, The Cripple and His Talismans, in 2004. This dark fable won critical acclaim for its magic realist depiction of the seedy beggars' underworld of India. Irani's second novel, The Song of Kahunsha, was chosen as a CBC Book Club One pick. His third novel, Dahanu Road, was published in 2010. His fourth, The Parcel, was published in 2016.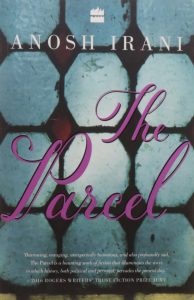 Story: Madhu is born as a boy. In India, Madhu is a common name for both the gender. Madhu grew as a transgender. At the age of 14 he ran away from his family, got operated and became a She. It was a miserable life for Madhu, she was into Prostitution, abused and finally became a beggar. For brothels, she was a trainer kind, for the girls of nine or ten years old. Those girls are called as Parcels. Madhu's job is to make their suffering less. She believes that what she is doing is humane. She never keeps the money from parcel work. She spends the same for food and toys for parcels. When she goes to begging she retires from this trainer job also. She is forty now. When she gets a call from a powerful brothel owner Padma to train a new parcel she is reluctant but she is not having any other option but to oblige. New parcel name is Kinjal. She is ten years old. She is kidnapped from Nepal. In the process of training, Madhu revisits her story and of other transgenders and prostitutes. May be this is going to be the most haunting story you have ever read.
My thoughts: Irani's first hand information helps him to develop this novel. He has not hesitated to leave even a bit of the red-light area in his narration. Through out the book, black humor is applied to ease the pain. Men's perverted sexual pleasure, real estate mafia, power politics in brothels etc. are covered in detail. Readers of romance novels beware and never go near this novel. If you read, then next one year you cannot read any romance novels. A must read to know about the sufferings of women.
The Seven Husbands of Evelyn Hugo – Taylor Jenkins Reid:
Taylor is an American novelist and she is the author of seven novels so far. The Seven Husbands of Evelyn Hugo is a huge success and even after two years of the release, it is still a book of the month for many book clubs.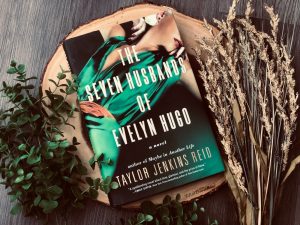 Story: Monique is not a big name in leading magazine 'Vivant'. She just broke up with her husband. When she was asked by none other than the glamorous queen of Hollywood, Evelyn Hugo specifically for a photo shoot, she could not believe her luck. When Evelyn asked her to write her biography Monique was on top of the world. Evelyn has married seven times. She won an Oscar. She was ruling the industry for more than three decades. Her life is full of scandals and lies. Evelyn's ruthlessness helped her to reach the supreme stardom. She had outlived all her seven ex-husbands and her only daughter too. There were more and more men apart from her seven husbands. But she never loved any of them truly. Her true love is a different person. It is an incredible story narrated with different techniques of writing.
My thoughts: Every one of us knows that, to become an actress what are the sacrifices to be made! But Evelyn story is different and sometimes I feel that I am reading the biography of Elizabeth Taylor. Well. This is a different story all together. A poor abused girl from Hell's Kitchen has reached to a greater heights that no one can dream of. This is a journey of a very strong and ruthless individual. Finally, Evelyn wants to tell the world who she really is! She doesn't want your appreciation or she doesn't care about your contempt. According to her " all's well that ends well".
Perfect Match – Jodi Picoult:
Jodi Picoult is an American Author and got her Masters degree at Harvard. Her 'Small Great things' was quoted number of times in the book clubs but I have missed that and when the same repeats for this novel I have not repeated the mistake.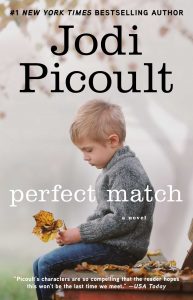 Story: Nina and Celeb are couple and five year old Nathaniel is their only son and they are married for eight years. Caleb is a contractor and Nina is a Prosecutor. She deals daily with the cases of abused children and women for the past seven years. She feels that law is not sufficient to punish the culprits even though she struggles to give her best all the times. One day, when Nathaniel was not well, she forced him to go to school only take him back home after receiving a complaint about his son from school. Her son had stopped speaking. When the couple took him to their doctor, he referred ENT specialist and finally ENT referred to a psychiatrist. When the Psychiatrist checks the child, he found that the boy was sexually assaulted. Nina curses herself for not giving adequate attention to her son because of the demanding work but at the same time she wants to take vengeance on the person who has committed this sin, which is going to be a permanent scar in her son's life. She is also aware that law is not sufficient to punish the perpetrator. To what extend a mother can go to protect her son? Well. To exchange her freedom to save the life of her son.
My thoughts: First this is a wholesome novel. Jodi has crawled into the minds of characters to write this book. There is an abused five year old. It is not easy to pen the mind of five year old who was sexually attacked. Then Nina. The mother and the prosecutor. Caleb, the father. He is so real and I can't think him as a fictional character. Patrick, a lover and the policeman. Quentin Brown, the prosecutor who believes nothing but law. DNA analysis is thoroughly researched and used optimally in this book. Individual characters' motivation brings extra emotional weight to the story. Abuse, guilt, penance and love are mixed in a professional manner and the blend is this delicious novel.
Where The Crawdads Sing – Delia Owens:
Delia Owens is a wildlife Scientist and Zoologist. She had spent considerable time in Africa and the 'Crawdads Sing' is her first novel. You have to read her novel to know how she masters in her subject and wildlife.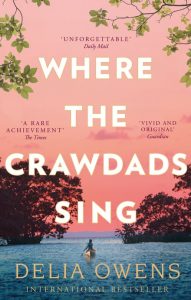 Story: The novel starts with Kya, a little girl of six, saw her Ma walking down the sandy lane in her old gator shoes. Her Ma never looked back and never returned too. It was in 1952, when one by one the entire family abandoned her and left her all alone, the six-year-old girl learned the way of survival on her own. When Social security people dragged her to school, she could not spell the word 'dog' and she was heavily humiliated and never returned to school in her life. She could not read and speak properly till she met Tate, a young boy and lived all alone in Marsh without any money.In 1969 a body of a famous young man Chase was found lying in Swamp by two boys. There were no footprints or trail and The Sheriff smelled some foul play.Both the timelines are intertwined and the story moves from past to present.
My thoughts: The prose itself goes poetic many times and the poems of Amanda Hamilton is used throughout the book. Knowledge of one thing is different and penning the same is another thing. Delia shares her knowledge of wildlife in a masterly manner which stands a thin line from the documentary. Incredible story converted into an unforgettable novel. Kya is not to be forgotten for a very long time. In the first twenty pages itself, you will immerse into the character. I was about to finish the book and another fifty pages to go and I got a strange feeling that, I am going to miss Kya and never in my whole life I am going to meet her again. I have done a thing which I have never done in my life. I closed the book and slept with a thought of seeing her the next day.