(1)
Gandhi's relationship with various women associates from Mira Behn to Manu Gandhi has become a major talking point of biographies, novels, gossips and take-downs. Gandhi's brief relationship with Saraladevi Chaudhurani is pitched as a major selling point for new biographies on Gandhi. But his most remarkable relationship with a woman has probably drawn the least attention. It was, in fact, with his wife, Kasturba Gandhi. A marital relationship may be seem unexciting and dull but the Gandhi-Kasturba bond was remarkable nevertheless. After Kasturba died on his arms in prison, Gandhi said, "If I had to choose a companion for myself life after life, I would choose only Ba."
My daughter asked me, if I knew when was her birthday or their wedding day. When I said no, she quipped, then how do you only know of October 2nd as Gandhi Jayanti. It was then that it struck me that this 150th Anniversary should be as much a celebration of the woman behind the Mahatma, as the Mahatma himself.
My interest in the Gandhi-Kasturba story was further kindled, when an otherwise knowledgeable Facebook friend, asserted that Gandhi killed Kasturba with his 'anti-science' attitude by denying her penicillin, when it could have saved her. Kasturba was on her death bed when the penicillin injections arrived. Initially Gandhi had agreed to give penicillin but he had not known that it needed to be injected frequently. The doctors could not give Gandhi enough confidence that this will help her recover. She had already suffered for long. He feared that the treatment will only prolong her suffering. She died within an hour of deciding against penicillin. We do not know if it would have made a difference. Many of us have faced this situation in our lives of having to choose a certain line of treatment for our near ones and made a call, one way or the other. Intuitively, I could brush aside this charge against Gandhi as being too harsh. Yet, I felt, I needed to understand, more in depth, the nature of the relationship between Gandhi and Kasturba, and their natures, before setting aside that accusation. And I am glad that this discussion led me on to a deeper understanding of their relationship spanning nearly 70 years.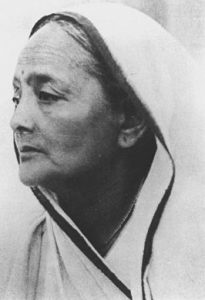 Compared to the spouses of other prominent leaders, we do know quite a lot about Kasturba. But there is not much literature available focussing exclusively on Kasturba. There are two noteworthy books on Kasturba that I came across. The first is the impressive memoir by Sushila Nayar, 'Kasturba: A personal reminiscence', and the other, a rather loose personal biography by her grandson, Arun Gandhi, 'Kasturba: A Life'. Gandhi had written a fair bit about Kasturba in his numerous letters to friends. Mahadev Desai recorded many incidents and discussions involving Kasturba in his dairies. His son, Narayan Desai wrote about Kasturba in his memoirs, and his four-volume biography on Gandhi. He had also written a play in Gujarati on Kasturba, but it is still not available in English. Millie Polak, who had lived with the Gandhi family in South Africa, gave a brief but intimate picture of Kasturba in her memoirs on Gandhi – 'Mr.Gandhi: The Man'. In addition to these, there are many other works which give a fleeting glimpse of Kasturba. Gandhi's autobiography is the foremost among them and the source for most other works, but we see Kasturba entirely through Gandhi's eyes. His intention, often, was to show the mistakes he made and what he learnt from them. We do not know what exactly went through Kasturba's mind during those moments.
Retelling their well-known tale, by keeping Kasturba as the focal point, allows us to look at her in a different perspective. All the gaps in the story do not get filled yet, but with a little bit of imagination on the part of the reader, the gaps can be filled in our minds.
Nothing in Kasturba's early life indicated that she was to achieve greatness. For that matter, nothing in Gandhi's early life indicated his future greatness. Kasturba was groomed to be a traditional Gujarati Hindu wife. She grew up to be one. Gradually, she started keeping pace with Gandhi. She became the ideal foil for Gandhi. It was not just a complex family that she had to manage for Gandhi; she had a huge role in managing his large extended family and the ashrams. Without Ba, resiliently standing with and behind him, there could have been no Bapu. Often, she showed glimpses of being a leader and a fighter, in her own right, managing the large coterie of family and friends around Gandhi, leading protests and going to jail. However, Gandhi still remains the primary reason for our interest in Kasturba. It is more for her unwavering role in the making of the Mahatma, that she is remembered. And it wasn't an easy task to be close to a person who was putting himself and everyone close to him inside his crucible of experiments with truth. His eldest son fell out with him. Most of his friends and associates couldn't travel with him the entire journey; Kasturba did, almost.
(2)
They were born in the same year, 1869. We have no records of Kasturba's exact date of birth. 11th April,1869 is cited in some notes, but the authenticity of that date is uncertain. Kasturba was born as Kastur Kapadia, came to be known as Kasturbai after marriage, and then became Kasturba, or simply, Ba (Mother).
While Mohandas Gandhi grew up hearing tales of Rama, Harichandra and Shravan, Kastur had her fill of tales about Anusuya, Savitri, Sita and Taramati – all women devoted to their husbands. In 1876, their fathers, Karamchand Gandhi and Gokaldas Kapadia, reached an agreement for betrothing them. Their mothers, Vrajkunwerba Kapadia and Putliba Gandhi were friends and neighbours. The seven-year olds, Mohandas and Kastur were engaged. Then, at the age of 13, Mohandas and Kastur were married. Gandhi, 'took no time in assuming the authority of a husband.' His part as a jealous husband, and his carnal desires and his pangs of guilt when his father died, are all well documented in his Autobiography. But we know very little about what Kasturba felt during their joint teen-hood. Their grandson, Arun Gandhi, writes: 'My grandmother left no written records and, in later life she never confided her innermost feelings or personal reminiscences to anyone.' She was by no means meek and submissive at that time. She made it a point to go out wherever and whenever she liked. 'How could a guileless girl brook any restraint on going to the temple or on going on visits to friends?'
Gandhi tried to teach Kastur whatever he learnt at school but she never shared the same enthusiasm. Gandhi attributed his failure to teach her to his lust but it was probably more due to indifference on her part, at that time, and her conservative nature. 'It was after years of effort that she could with difficulty read and write letters in simple Gujarati.' It is also interesting to note that Gandhi's dallying with cigarettes and meat-eating along with his brother Karsandas and his friend Sheik Mehtab occurred when Kastur had gone to her parent's home at Porbandar for an extended stay. When she returned, she realized that he had taken to eating meat. She must have been aghast but bore it in silence. Meat-eating ended with his confession about a theft to his father. He also visited a brothel, urged by his friend. But he did nothing there and was sent away with abuses. Kastur did try to talk him out of his friendship with Sheikh but to no avail. This friendship lasted till, much later, a bitter incident put an end to it in South Africa.
Their first child was born, when they were barely 16 years old, four days after the death of Karamchand Gandhi. At the time of his father's death, Mohandas was in bed with Kastur, having been relieved by his uncle from nursing his father a few minutes earlier. The child did not live longer than a few days. Gandhi thought of the death of their first child as a moral lesson for him. 'Before I close this chapter of my double shame, I may mention that the poor mite that was born to my wife scarcely breathed for more than three or four days. Nothing else could be expected. Let all those who are married be warned by my example.' But did Kasturba share the same moral indignation, and a certain degree of indifference, about the loss of their first child, or was she filled with sorrow? Arun Gandhi writes, 'But as far as I can discover, she never discussed the matter with anyone. I believe even after she became the mother of four sons, Ba carried in her heart a burden of silent sorrow for her lost firstborn son.'
They had another child, Harilal, when they were 18 years old.
After finishing matriculation, Gandhi joined Samaldas college at Bhavnagar. Unable to cope up, he dropped out after the first term. Based on the advice of a family friend, he then decided to leave for England to become a barrister. There were numerous objections, not just from his mother which has been frequently cited, but also from his in-laws. In an interview to 'The Vegetarian' in 1891, Gandhi said:
"Small blame then to my wife's parents if they thought that they had a right to interfere if only for the sake of their daughter. Who was to look after her? How was she to manage to spend the three years? Of course she was to be looked after by my brother. Poor brother! According to my ideas at that time, I should have taken little notice of their legitimate fears and growling, had it not been that their displeasure would have been reflected on my mother and brother. It was no easy task to sit night after night with my father- in-law and to hear and successfully answer his objections."
For money, apart from what he got from his elder brother, he sold Kasturba's jewels. We do not know if Kasturba had objections to selling her jewels. Gandhi would have recorded if she had any. She was probably pained more by the prospect of separation from her husband than the loss of jewels at that time. He took a painful leave from his adolescent wife. "She, of course, had been sobbing long before. I went to her and stood like a dumb statue for a moment. I kissed her, and she said, 'Don't go.' What followed I need not describe."
We do know she was vehemently against the idea of losing her jewels again, when many years later, Gandhi decided to give away the jewels given to her during the farewell dinner at South Africa to the Indian cause in South Africa.
It was not just the jewels that Kasturba had lost. She had to bear the brunt of being an outcast in a conservative society, while the outcast tag did not matter much for Gandhi who had left the shores. She was also left in the care of her mother-in-law and Mohandas' brothers, who themselves did not earn as much as their father once did. Her visits to her parents home at Porbandar also became sparse due to the excommunication. Before Gandhi returned to India, his mother too died. The family – Kasturba may have had a role in making this decision, decided not to inform Mohandas about the death of his mother.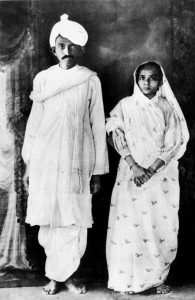 When Mohandas returned to India, he came back as a Westernized barrister. He again sought to teach Kastur to read and write. She still had no interest in literacy. He taught English ways to Harilal, and the other boys of the Gandhi family…shoes, long walks, calisthenics, cocoa, oatmeal and porridge. One thing had not changed – he still was a jealous and suspicious husband, though Kastur seemed to have given no cause of suspicion. She was sent off to her parent's house after a quarrel. When she returned after a month, Mohandas had mellowed a bit. He was obviously feeling the burden of his inability to start off his professional career. Gandhi left for Bombay, alone, to set up his practice there. Kastur had to stay back in Rajkot, with her son. She was pregnant again. After many humiliations in Bombay, Gandhi returned to Rajkot, where he started earning a decent income, writing petitions and memorials. Their second son, Manilal, was born. Kastur, for the first time, could step out of the care of her brother-in-laws. But Gandhi was not a man for intrigue, submission and local politics. His prospects of becoming a Dewan, like his father, were shrinking. When he got an opportunity to work for an year in South Africa to settle a dispute, he seized it. With two small children, Kasturba must have felt daunted by another separation, but she welcomed it due to the comparative financial security and independence it offered.
In April, 1893, Gandhi set out for South Africa. He faced and fought racial discrimination in courtroom, train, hotels and elsewhere. He was all set to return to India after amicably settling the dispute before the end of the year. On the eve of his departure, during his farewell party, he chanced upon a news item which talked about the loss of franchise for Indians. The South African Indians convinced him to stay back and fight for them. Kasturba, who was eagerly awaiting the return of her husband, and the father of her young sons, received information about his extended stay to help the Indian community. 'She felt a mixture of relief and apprehension. Relief that, at last, her husband had found something he would do well.' All the reports she received about her husband was through the wives of his brothers. She could not have known the massive changes that her husband was going through. While on the financial front, his success would have been obvious to her by the way he supported his extended family, she could have hardly imagined the strides he was making on the social front. The successful social activist and barrister was not the same shy barrister, whose burden of insecurities she bore in India.
In 1896, he visited India on a working holiday. He intended to spend six months in India to garner support for the Indian cause in South Africa, and then take back his family with him. He prepared a 'a green pamphlet' laying out the conditions of Indians in South Africa and their intended course of action. Taking help from his sons and the neighborhood children, he sent copies of this pamphlet to various Indian leaders and newspapers.
(3)
Finally, after 13 years of marriage, most of which were spent in separation, Kasturba set out with her sons (and Gokaldas, the 10 year old son of the bereaved sister of Gandhi) to live with Gandhi, for the first time, away from the extended family. Crossing the sea was the price she had to pay for it. She had to wear a dress worn by Parsi women, to appear more civilized. . "What a heavy price one has to pay to be regarded as civilized," she had said later.She had a tough sea journey, weathered a violent storm, and at the end of it, when they reached Durban, there was still no end in sight. The ship was put on a quarantine, reportedly due to the bubonic plague in Bombay, but actually due to the presence of one Mohandas Gandhi on board. The green pamphlet had made its way to the Durban in a distorted form. Some of the whites of Durban were up in arms against Gandhi. There were rumors that he was bringing two shiploads of unindentured Indian immigrants. The ships were held at the sea for 25 days.
When finally, the passengers were allowed to disembark after 44 days on sea, Kasturba and the young boys could not have faced a more fiery welcome to her new home. Angry mobs were waiting for them at the shore. Kasturba and the boys were sent away in a carriage to the house of Rustomji, a Parsi friend. Gandhi followed them on foot with a European lawyer. Kasturba, in a strange place, in the house of strangers, was awaiting his arrival. After a long time, Gandhi arrived, badly beaten up and bruised, but saved by the intervention of the wife of the Police Superintendent. To make things worse, the mob surrounded Rustomji's house. The Superintendent reached their house and convinced Gandhi to leave the house alone in the disguise of a policeman. The mob, after confirming that Gandhi was not in the house, finally dispersed. Gandhi did not return for 2 more days, kept away under police protection. Gandhi decided not to proceed legally against his assailants, clarified the contents of green pamphlet in a newspaper report, and finally normalcy returned. He won new friends and admirers. After 2 more days, they went to settle down in the house that he had rented earlier. But what a turbulent experience it would have been for an unlettered, orthodox young woman in a strange place with three boys to look after!
In the new house, Beach Grove Villa, built in European style, Kasturba felt lonely and lost. She longed for the company of her sisters-in-law at Rajkot. Gandhi frequently brought in clerks and other visitors to stay at the house. If any of the visitors did not clear the chamber pots, Gandhi or Kasturba had to carry them out and clear them. The very thought of this task repulsed her. When a new guest, who was a Christian from an untouchable caste, left without knowing that he has to clear his chamber pot, Kasturbai carried the pot out reluctantly. She knew Gandhi would do it if she didn't. She was in tears and furious. Gandhi watched her. It wasn't just enough for him that she carried the pot. 'He would have her do it cheerfully.' She shouted, "Keep your house to yourself and let me go,' and Gandhi complied, dragging her to the gate. Kasturba cried: "Have you no sense of shame? Must you so far forget yourself? Where am I to go? I have no parents or relatives here to harbor me. Being your wife, you think I must put up with your cuffs and kicks. For Heaven's sake behave yourself, and shut the gate. Let us not be found making scenes like this." Gandhi further writes in his autobiography, "I put on a brave face, but was really ashamed and shut the gate. If my wife could not leave me, neither could I leave her."
Kasturba was pregnant at that time, with her third (fourth) child. Gandhi's reformative mindset had blinded his compassion for his wife. 'He never ceased to regret this incident, and used to relate it with tears in his eyes.' When the child was born, Gandhi was prepared, after having read a Gujarati book on childbirth and childcare, to assist during delivery (May 1898) and to take care of the child and the mother, when they were too weak.
Kasturba had to face other anxieties too. Gandhi did not believe that the exclusive European schools or the Christian Mission schools that admitted Indians would be able to give his children the right kind of education. He tried employing a private tutor but it didn't work out. So he decided to educate the young boys himself. Considering how busy he was, it meant the boys got very little time with him, and were hanging out on their own at the house most of the time. When they did get time with him for studies, it was late in the evening when they were tired, or early in the morning when they were half-asleep. Kasturba argued with her husband on this account too, saying some education was better than no education, and if there were schools, children should go to them.
Gandhi was now earning more than he would have liked to. This prosperity repulsed him. He wanted to reduce their expenses and free up the money for public work. He dismissed all the servants. The entire family took on all the household chores. In India, Kastur had got used to seeing women doing all the household work. In her South African home, she had to get used to doing a bulk of work herself and having the male members contribute. Gandhi took on a major share of work himself. From kitchen to laundry, he pitched in. He even started cutting his own hair.
In 1899-1900, Gandhi went off to participate in the Boer war, after organizing the Indian medical corps 'to prove the loyalty of Indians to the Queen without bearing arms.' During the many weeks that Gandhi was away, Kasturba managed the house on her own. She was again pregnant. 'For the first time ever, she was in complete charge of her own daily life and she found such independence not at all unpleasant. Kasturba was quite content, moving at her own pace, looking after her own little empire; taking care of the boys, planning for the new baby's arrival, enjoying visits from new friends she had made in Durban, and trying not to worry about Mohandas. The couple's fourth son, Devadas, arrived on May 23, 1900. Kasturba went into labour so suddenly and the birth came so quickly there was no time to summon doctor or nurse. Once again the birth was difficult and Kasturba's suffering was great, but this time Mohandas delivered the baby safely all by himself. ("I was not nervous," he reported in his autobiography. He disclosed nothing about his wife's state of mind.) With Kasturba's health again in a fragile state, Mohandas again cared for her, their newborn and the other boys. Then, in the midst of these domestic endeavors, 7-year-old Manilal came down with a serious case of smallpox. Mohandas put aside any thought of an early return to India. After many weeks, Kasturba's strength returned.'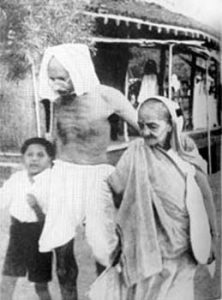 Finally, in October, 1901, Gandhi decided to return to India, under the condition that he would come back whenever he was needed in South Africa. It was during a farewell party hoisted for the family at this time that Kasturba was given a gift of jewellery. Gandhi wanted to give back the jewels to a trust he would create for service to the Indian community. He had a 'torrent of arguments' with Kasturba. She said she wanted the jewels not for her, but for their sons and their brides to be. But Gandhi had already enlisted the support of his young sons. They spoke in his favor. 'You are trying to make sadhus of my boys from today!' she lamented. When Gandhi, unfairly, pointed out that the jewels were given for his service, she firmly rejoined, 'I agree. But service rendered by you is as good as rendered by me. I have toiled and moiled for you day and night. Is that no service? You forced all and sundry on me, making me weep bitter tears, and I slaved for them!' Somehow Gandhi prevailed and the jewels were returned.
Back in India, after a brief stay in Rajkot, Gandhi moved with his family to Bombay in order to set up practice there, and also do political work. While in Bombay, their son, Manilal, then 10 years old, fell ill with typhoid and pneumonia. The Parsi doctor who came over told them that Manilal lacked nourishment and needs to be given egg and chicken broth. Gandhi writes in his autobiography that he refused after consulting Manilal. Kasturba was equally, or perhaps more, determined not to give eggs and chicken broth. When Gandhi commenced hydropathic treatment for the ailing Manilal, Kasturba stood by him steadfastly. She gave him encouragement when he was having doubts. Manilal recovered.
While Kasturba felt very much at home and in control, at her new house in Bombay, Gandhi seemed to be still out of sorts. They had surely settled into a comfortable life but this was not the life of a couple, who were about to change history. Then, the call came from South Africa that Gandhi was needed there as Chamberlain, the British Colonial Secretary, was expected there. Gandhi had to leave immediately. Gandhi left them behind, and traveled alone. He expected the work to not last for more than a year. Harilal and Gokuldas were studying at boarding schools. Kasturba remained behind at Bombay with her other sons. Gandhi's nephew, Chhaganlal Gandhi and his family moved into their house to give them company.
In Gandhi's absence, his brother Lakshmidas arranged for the betrothal of Harilal, then 14 years old, with Gulab, only 11 years old. Kasturba consented for this. Gandhi had strong views on child marriage and they had all not anticipated his reaction. When Gandhi was informed of this, he refused to give his consent but had to finally relent, when he was assured that the wedding would not take place for many years.
(4)
Gandhi did not, as expected, return to India after an year. Instead, he asked his wife and sons to join him in South Africa, if they wished to. Harilal did not want to travel this time. He wanted to pursue his studies. Kasturba paid heed to his wishes, and agreed to leave him behind.
By this time, Gandhi had moved to Johannesburg in Transvaal. In her absence, he had started a weekly newspaper, Indian Opinion, which was initially published in four languages: English, Gujarati, Hindi and Tamil. Most of his savings had gone into it. When Kasturba arrived, she had another issue that occupied her mind. Their son, Ramdas, had fractured his arm during the ship journey. Gandhi offered to treat Ramdas, with earth poultices. Kasturba was worried but once again placed trust in his remedies. Ramdas was completely healed within a month.
When the highly contagious and fatal pneumonic plague struck an Indian settlement, Madanjit, who started Indian Opinion with Gandhi, acted quickly to isolate the 23 patients in a vacant house. Gandhi immediately rushed there to provide care for them. Certain biographical notes on Kasturba, including Arun Gandhi's book, mention that she played a role in educating the women and mobilizing them to clean a warehouse during the plague. But nothing about Kasturba's presence is mentioned in Gandhi's autobiography or his major biographies. In fact, at the time of the plague – 18th March, 1904, Kasturba and the children were still in India.
Life soon began to move at a rapid pace for Kasturba. Gandhi, after reading the book, 'Unto the last', by John Ruskin, on a train journey, got inspired by its ideas so much that, almost immediately, decided to buy a farm and move his printing activities there. Within 10 days, he bought a 100-acre farm, 14 miles from Durban. He also planned for people to settle down on that farm, which he named as the Phoenix Farm, and lead simple, self-sufficient lives. The friend who lent him the book, Henry Polak, moved in to live with Gandhi at his Johannesburg house. Soon, he got married, and his wife, Millie Polak, also moved in with them. Kasturba took them in with joy.
They were living in a double-storied, eight-roomed modern villa in a 'fairly good middle-class neighborhood.' It was surrounded by a garden. Their household, noted Millie Polak, already had other members too – 'a young Englishman engaged in the telegraph service and a young Indian ward of Mr.Gandhi's.' Millie Polak started teaching Kasturba spoken English, and also taught the children reading, writing and arithmetic. Then came the big step – Gandhi decided to keep no money, over and above that required for basic necessities. It caused a breakup with his elder brother, who felt Gandhi was letting the larger family down by not supporting them financially.
Gandhi 'introduced as much simplicity as was possible in a barrister's house.' His thrust on physical labor was increasing. He bought a hand-mill for grinding flour. He and the children worked on the mill, usually sparing Kasturba of that work.
Kasturba had to do the balancing act of dealing with the increasingly ascetic attitude of Gandhi, and the material needs of her children. She had her own ways of doing it. Millie Polak writes about one such instance: 'Mrs. Gandhi, like most mothers, was proud of and ambitious for her children, and, among other things, she wanted them to be nicely clothed. Apart from her, the household wore European clothes, so that, when new shoes or a new suit was wanted for one of the boys and Mr. Gandhi seemed indifferent to the need, Mrs. Gandhi would often say to me: "You ask Bapu for it," and I did.'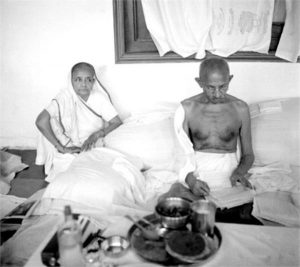 Gandhi in his autobiography tends to be too hard on himself and focus on his flaws, downplaying the responses of Kasturba. This has resulted in painting Kasturba as a meek woman, who was always a helpless victim to her husbands whims. Later he did say that he learnt non-violence from the peaceful but stern defiance of Kasturba. Yet, the meek, obedient wife image lingers. Millie Polak throws more light on the combative nature of Kasturba. When there was no core principle at stake, she could score a point over her husband.
"On one occasion, some Europeans had invited themselves to dinner. Mr. Gandhi did not know them very well and Mrs. Gandhi not at all. When they arrived, they were frankly and almost rudely curious about the home-life, asking all kinds of intimate questions in a very arrogant manner. Mr. Gandhi answered quite kindly, but laughed at many of the statements about what they thought Indian people did or did not do. Mrs. Gandhi had, from the first, been angry about them, and before we went to the dining-room she disappeared. Mr. Gandhi sent for her, but she did not come. Eventually, Mr. Gandhi went himself in search of his wife, and found her in her room, but she refused to come down. The dinner passed off, Mr. Gandhi giving some explanation for his wife's absence. The next day when I saw her, she told me that she would not have people come to the house just for idle curiosity and to "make laugh" of her and her home. So that, if they came, they would not see her. Bapu could see them himself. I think Mr. Gandhi tried to reason her out of this mood, but she stuck to her opinion and was not moved by any of our arguments."
The life in the villa had to come to an end. When the Zulu rebellion broke out in Natal, Gandhi made an offer to again form an Indian Ambulance Corps. His offer was accepted by the Governor. In anticipation, Gandhi had already planned to vacate the Johannesburg house and move his family to the Phoenix farm. Gandhi writes, "I had her full consent to this decision. I do not remember her having ever stood in my way in matters like this."
But Millie Polak had more to tell:
"My first view of Phoenix disappointed and depressed me. Mrs. Gandhi, too, did not feel happy at being transplanted from the town, with its domestic and human amenities, to the more primitive conditions which prevailed at the settlement. She and I shared a little room the first night we arrived, and lay awake talking and grumbling for hours. We were probably overtired, both nervously and physically; for we had had two days and a night in a train, and at the end of that a long two-mile tramp along a badly constructed road across difficult country, our path lighted only by a flickering lamp, and the fear of snakes constantly in our minds. The youngest boy also had become tired and commenced to cry miserably. When we reached our destination, we had to set to work to make beds ready, and all the arrangements for the night.
About four o'clock in the morning, just when it was getting daylight, Mr. Gandhi came down the ladder and walked up and down outside our room. After a time, knowing that we were only dozing, he spoke and asked what it was we really wanted. His voice had a worried note, and it was evident that our attitude of the previous night had much disturbed him. Mrs. Gandhi replied in Gujarati, and a conversation ensued which I could not understand. Eventually, Mr. Gandhi begged us to be patient and see what we could do with the things around us, promising to get any other really necessary things that we required. The essence of the last sentence lay in the word "necessary", however, for somany things we desired we could not prove to be necessary, and so life was lived at Phoenix in a very simple way."
Millie Polak could not adapt to the wild Phoenix life. With Gandhi's concurrence, she soon left for Durban. But Kasturba stayed on. She might have even enjoyed her stay there, because she had the company of the families of her husband's nephews, Chhaganlal and Maganlal Gandhi, and others.
In May 1906, Harilal, who had stayed back in India, got married to Gulab. His uncles had arranged it. Harilal was 18 years old, and Gulab 15. Gandhi had already been upset with their engagement at an young age. He had then insisted on delaying their marriage. This caused him more anguish. Kasturba must also have been upset at not being consulted and not being present for her first son's wedding.
In June 1906, Gandhi went off to do ambulance corps duty in the Zulu war. He came back resolved to take a vow of brahmacharya – a life of self-restraint, especially abstinence from sexual activities. As a first step, he stopped 'sharing the same bed with his wife or seeking privacy with her.' What he had been trying to follow 'willy-nilly since 1900, was sealed with a vow in the middle of 1906.' He thought that without brahmacharya service to the family would be inconsistent with service to the community. He consulted Kasturba at the time of taking the vow, and, 'she had no objection'. Even during his earlier failed attempts, 'she was never the temptress', and after this vow, she seemed to have made the transition with much less fuss than Gandhi. It was after his practice of brahmacharya, he 'realized that the wife is not the husband's bond-slave, but his companion and his helpmate, and an equal partner in all his joys and sorrows – as free as the husband to choose her own path.'
Gandhi went back to Johannesburg. Harilal brought his wife Gulab to South Africa in April, 1907. After living with his father for a while, Harilal shifted to Phoenix. Kasturba must have been delighted. But, soon after, in response to the Asiatic Act or the 'Black Act', Satyagraha was initiated under the leadership of Gandhi for the first time. And Gandhi went to jail in December 1907. Another 150 Indians followed him to jail. Gulab was pregnant and a celebration was being held for her, when the news of Gandhi's arrest reached Phoenix.With gentle authority and love, Kasturba grew into her role of a motherly figure for everyone at the farm, playing an influential part in running the farm and later their ashrams in India. Her barrister husband would henceforth spend more time in prison than in court rooms.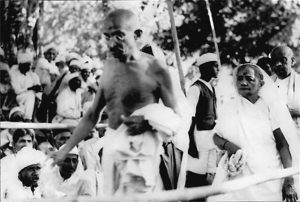 Kasturba also started getting used to seeing her sons going to prison. Harilal was the first to go. He entered Transvaal from Natal without a permit, and also hawked without license. He was arrested on 24th July, 1908. Appearing as the defence counsel for him and others, Gandhi said 'he had a long conference with the prisoners at thegaol, and he had been requested to ask for the severest penalty. The accused had acted as they had done with deliberation.' They were fined £1 each or imprisonment of seven days with hard labor. They chose the prison. On receiving various inquiries as to why he sent Harilal to prison, he gave his reasons in The Indian Opinion:
"1. I have advised every Indian to take up hawking. I am afraid I cannot join myself since I am enrolled as an attorney. I therefore thought it right to advise my son to make his rounds as a hawker. I hesitate to ask others to do things which I cannot do myself. I think whatever my son does at my instance can be taken to have been done by me.
It will be a part of Harilal's education to go to gaol for the sake of the country.
I have always been telling people that satyagraha is easy for those who can understand it well. When I go to defend those who have been arrested, I do not, strictly speaking, defend them but only send them to gaol. If we have acquired real courage, there should be no need for me to present myself in Court. I thought it only proper that I should make this experiment in the first instance with my son. Accordingly, no arrangements were made for him at Volksrust, and he was left to fall back on his own strength. Since there were others with him in Johannesburg, I attended the Court, but asked for the maximum penalty for him and for his associates. It was their misfortune that they did not get it."
Harilal went to prison six times in South Africa. He was deported twice. Once both father and son were in prison together. He earned the sobriquet 'Chote Gandhi'. When Gandhi was in jail, he said, "I am proud of my respected father." When Kasturba fell ill, he rushed to nurse her. Gandhi wrote loving letters to Gulab from prison. But all this bonhomie was short lived. Harilal had a serious fallout with Gandhi. His major complaint was that he was not sent to England to qualify as a barrister, when Gandhi's friend Dr.Pranjivan Mehta had given a scholarship. Gandhi had instead sent Chhaganlal Gandhi, and then when he had to return due to bad health, Sorabji Adjania. Both of them had gone under the obligation to return to South Africa and work for the Indian cause. We do not know if Harilal refused those conditions. Gulab was already in India for her second pregnancy. Harilal too left, initially without informing anyone, and his life kept sliding downhill. In India, after the death of his wife, his children were all brought up by Kasturba in their ashrams. But father and son never quite patched up, despite several attempts.
Kasturba, too, lost her patience with Harilal, admonishing him when he converted to Islam, in 1936.
"Every morning, I rise with a shudder to think what fresh news of disgrace the newspapers will bring. I sometimes wonder where you are, where you sleep and what you eat. Perhaps, you take forbidden food. That and other similar thoughts give me sleepless nights. I often feel like meeting you. But I do not know where to find you.
I do not know why you changed your ancient religion. That is your affair. But I hear that you go about asking innocent and ignorant people to follow your example. Why will you not realize your limitations? What do you know about religion? What judgment can you exercise in your mental condition? People are liable to be led away by the fact you are your father's son. You are not fit to preach religion. In time to come if you go on like this you will be shunned by all alike. I beseech you to pause and consider and turn back from your folly.
I did not like your conversion, but when I saw your statement that you had decided to improve yourself, I felt secretly glad even about conversion, hoping that you would start leading a sober life. But that hope too is dashed to pieces."
She even wrote to his Muslim friends:
"I am only referring to those of you who are taking an active part in my son's recent activities. I have not been able to understand your action. I know and I am glad to think that a large number of thinking Mussalmans and all our life-long Muslim friends condemn the whole episode.
Instead of redeeming my son I find his so-called change of faith has actually made matters worse. Some people have even gone to the length of supplying the title of 'Maulvi' to him. Is this fair? Does your religion permit such persons as my son being called Maulvi?
I do not understand what pleasures you find in sometimes lionizing him. What you are doing is not at all in his interest. If your desire is mainly to hold us up to ridicule, I have nothing to say to you. You may do your worst.
But the feeble voice of a stricken mother will perhaps quicken the consciences of those who may be in a position to influence you. I feel it my duty to repeat to you what I am telling my son, namely, that you are not doing the right thing in the eyes of God."
Harilal, though, remained attached to his mother. His reaction to this was, "'Ba didn't write this letter. Someone else wrote it and signed her name." Narayan Desai narrates this incident, when Harilal met them at Katni Station:
"He was emaciated. His front teeth were gone. His hair had turned grey. From a pocket of his ragged clothes, he took an orange and said, 'Ba, I've brought this for you.'
Breaking in, Bapu said, 'Didn't you bring anything for me?'
'No, nothing for you. I only want to tell you that all the greatness you have achieved is only because of Ba. Don't forget that!'
'Oh, there's no doubt of it! But now, do you want to come with us?'
'Oh, no. I only came to see Ba. Take this orange, Ba I begged for it, and now I give it to you.'
Ba took the orange. But Harilal wasn't satisfied. He said, 'It's only for you, alright? If you're not going to eat it yourself, give it back to me.'
Ba promised to eat the orange. Then she too pleaded with Harilal to come with us.
Harilal's eyes were full of tears. 'Leave off such talk, Ba. There's no way out of this for me.'
There was no time to talk further. The whistle blew. The train started moving.
Harilal was reminding her, "Ba, my orange is for you only!"
Our compartment had pulled away from him when Ba realized, 'I didn't even ask the poor boy if he wanted anything to eat! We had a basket full of fruits. My dear child must be dying of hunger!'
But by then die train had left the platform. Amidst the cries of "Gandhiji ki jai!", we could still hear die faint cry, "Mata Kasturba ki jai!"
Narayan Desai adds elsewhere, 'When Ba told him to join her, I saw how Gandhiji complied in a choked voice and with tear-filled eyes.' Sushila Nayar recounts the last two meetings of Harilal with Kasturba:
'On the 17th afternoon (February, 1943, at Aga Khan Palace prison) Ba's eldest son, Harilal Gandhi, had come to see her. She was very pleased to meet him. On learning that he had permission to see her just once, she was very angry. "Why this discrimination between two brothers?" she said. "They allowed Devadas to come every day and they tell Harilal that he can come only once! Let Bhandari, (Inspector-General of Prisons) come to me. I shall ask him why a poor son cannot come to see his mother as freely as the rich one." Gandhiji tried to pacify her. "I shall get permission for him to come every day," he said. Permission was received on the following day but no one could find Harilal bhai's whereabouts. Ba asked for him every day and every day she got the reply that he could not be traced. On the 19th Ba's condition was serious. We were informed that the Government had sent for Ramdas Gandhi and Devadas Gandhi telegraphically and they were searching for Harilal Gandhi.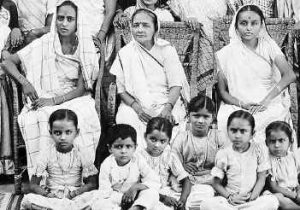 ——-
At last, on the 20th, Swami Anand succeeded in tracing him. Harilal bhai told the Superintendent on the telephone that he would have come during the day but for the fact that he had overslept in the afternoon. We all understood what oversleep in the afternoon meant in his case. Ba was angry. Gandhiji pacified her. At last, on the 21st afternoon, Harilal bhai came. Ba was deeply grieved to see his drunken state and she began to beat her forehead. Harilal bhai had to be removed from her sight.
The excitement brought on an attack of pain in her chest.'
Though her other sons also had their share of troubles with their father, they remained equally devoted to both father and mother. In South Africa, Manilal and Ramdas served prison terms. Kasturba seems not to have made any efforts to stop them from participating in the struggle. Fifteen year old Ramdas went on fast to demand better treatment. There came a time when Kasturba herself went to prison.
(To be continued)