To Read:
First Part: https://tamizhini.in/2018/11/14/the-ba-in-the-bapu-kannan-t/
Second Part: https://tamizhini.in/2019/01/13/the-ba-in-the-bapu-part-2-kannan-t/
Third Part: https://tamizhini.in/2019/02/17/the-ba-in-the-bapu-part-3-kannan-t/
(12)
A few days before his death, Vallabhbhai Patel said, "The love that Ba bore me I never experienced from my own mother. Whatever parental love fell to my lot, I got from Bapu and Ba…" This was not an isolated remark from one person. It was a remark that was representative of the feelings of hundreds of people who came in contact with the Gandhis. Gandhi and Kasturba cannot be judged merely as parents of four sons. They nurtured a huge family, related either by blood or acquaintance, supporting them through the good and the rough times, bringing their children up, marrying them off, tending to them during illnesses, providing financial assistance, finding jobs and so on. Going through the letters of Gandhi, it is quite remarkable to see how many people Gandhi, truly and repeatedly, called as sons and daughters, and spoke to them all with an intimacy rarely found in an average father. He did not just see the society as his family. He made the society his family.
He once wrote to the wife of Srinivasa Iyengar, and the mother of Ambujam, who was continuously corresponding with him on various personal issues, "Please dismiss from your mind the thought that Ambujam can ever be a burden on my mind. It is a matter of deep joy to me that I enjoy your confidence and her affection. I draw no distinction between such personal service and public service."
Neither did he 'discriminate between mine and outsiders.' In 1935, Gandhi wrote this letter to another of his 'sons', Balvantsihna. The occasion was when Harilal stayed with them for a few months.
How long can you live with me and not associate with and love others living with me? If you like living here you should like everyone who is here. And they are all good people. What else can one learn from living with me? You would serve all, so you should make up your mind to love all. If one is good the whole world is good. Why do you need a room for solitude? You have to find solitude under trees and in the cave of your heart.

You should give him the room, for you can live even under a tree. You are not likely to run away from me while Harilal avoids me. Now that at last Rama has come to dwell in his heart and he has come to me I have no wish to irritate him over small things. It will be a great thing if he can stay on. Ba will be the happiest. She often complains that I do not pay sufficient attention to Harilal. But I can do so only in my own way. I cannot discriminate between mine and outsiders. Whosoever follows my path is mine. I have no ill-will for those who follow other ways, but I will not help them either. Thus I can expect sacrifice from you but not from Harilal.

Blessings from

BAPU
Krishnadas, a young man who spent seven months with Gandhi during the non-cooperation movement, wrote in his book, 'Seven Months with Mahatma Gandhi':
It is no easy matter to share with Mahatmaji his keen judgement of things; and 'Ba' has been hard put to it on occasions to conform to Mahatmaji's high standard of such judgement. On one occasion a certain inmate of the Ashram was unwell but Ba had not kept herself informed of it. So Mahatmaji felt it necessary to point out to her her lapse, and he did it at the prayer meeting in the presence of all. "If Devadas had fallen ill, you would have known of it long ago; but how is it that you do not keep yourself informed when others fall ill?" And on another day he said to me, "I have from the first so trained Ba that she never shrinks from any kind of work even down to the cleansing of water closets. But when she feels thoroughly worn out by hard work, she, poor thing, neither grumbles nor protests, but simply weeps."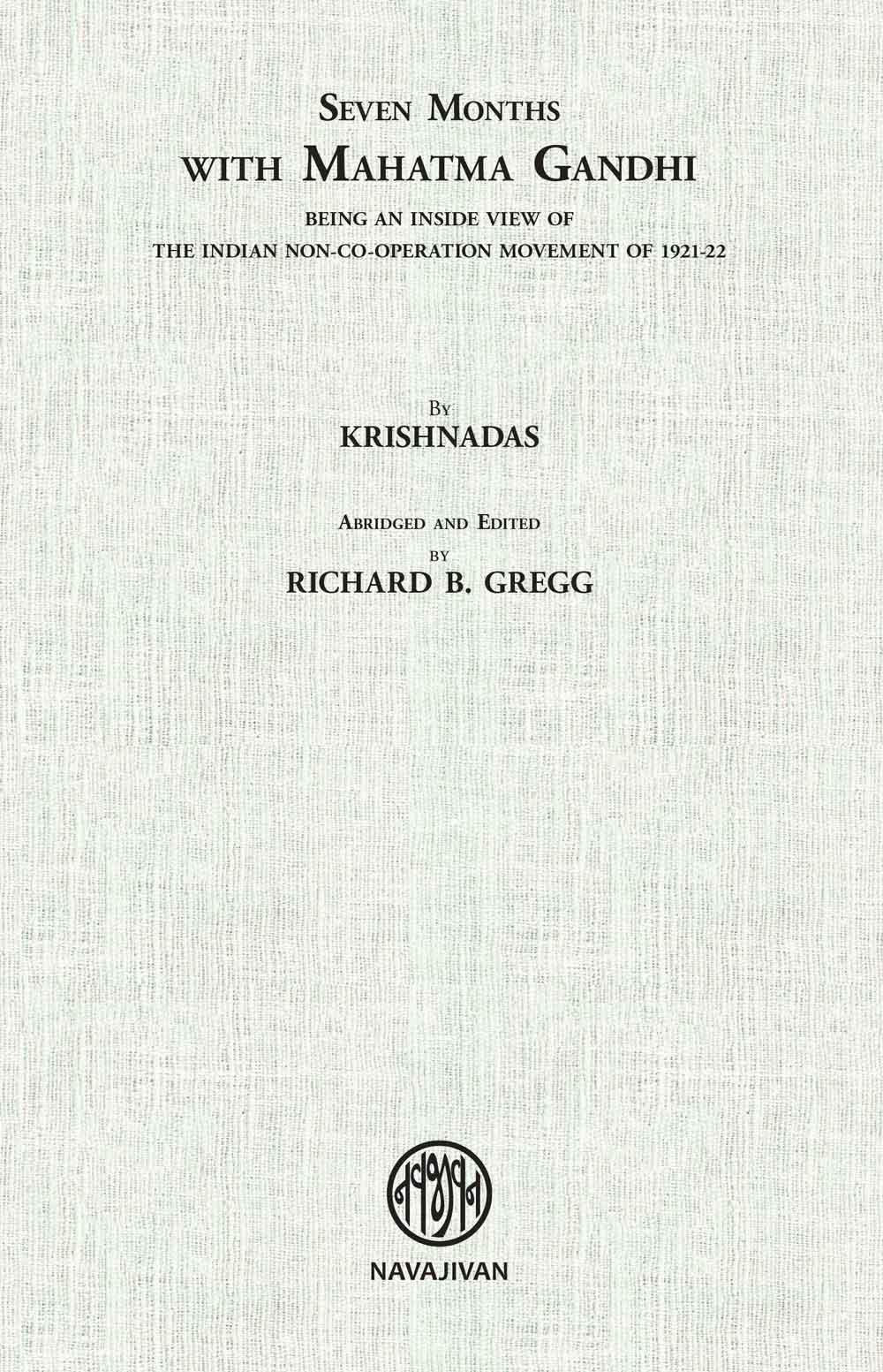 Kasturba, indeed, loved her sons a little more than the others, but she too had an inexhaustible resource of love which she showered on others also. She made people feel at ease and overcome the awe and aura of the Mahatma. Prabhavati, wife of Jayaprakash Narayan, says this about Kasturba:
"Gandhiji had come to Darbhanga during his tour of Bihar just before the non-cooperation movement was launched, and he stayed with us in our house. Kasturba was with him. I was only 14 at that time. As soon as Ba saw me, she held me by the hand, and soon an intimate bond grew between us. I felt so drawn towards that image of love and filial affection that I felt as if she was my own mother." […]
While I was still quite a child, I went South with Bapu. I still remember how Bapu lovingly instructed me, "Prabha, you would sleep with Ba on her bed". As there was only one cot at that place, I said, "well, I might sleep' on' the floor". But Ba did not listen, and she took me along with her to sleep.
Prabhavati grew up in their ashrams. Later, when Jayaprakash returned from the United States, she was initially quite reluctant to leave the ashram and go to him. It took a good deal of persuasion and guidance from Gandhi before she settled down with Jayaprakash. Jayaprakash had raked up some debts and Gandhi prodded him to accept assistance, without hurting his ego. He also supported his brother. When Kasturba was ill during her last prison term at Aga Khan Palace, Prabhavati was one of the first persons she requested to be allowed to stay with her and nurse her.
G.Ramachandran, who later co-founded Gandhigram University, 'first met Ba during Bapu's Hindu-Muslim-Unity Fast in Delhi in 1924,' when he was taken there by by his professor, C.F.Andrews. Ramachandran prepared food for Kasturba – she ate sparsely, while Gandhi fasted. Despite her own apparent agony and anxiety, Ramachandran writes, 'Ba put me at my ease with her kind words and looks.' He added, 'I have an idea that Ba bore greater burden throughout her life than Bapu and that without a murmur.' Ramachandran went to spend over a year at Satyagraha Ashram at Ahmedabad. He learnt under Ba in that little kitchen, 'lessons in strict punctuality, spotless cleanliness, unfailing good conduct, cooperativeness and strict obedience to rules.'
The other complexity in managing the ashram for the Mahatma was the frequent arrival of guests, both scheduled and unscheduled. Ramachandran remembers the day when Motilal Nehru arrived unannounced with a number of friends. The lunch was already over and it had to be prepared again. Gandhi gave the task to Ramachandran, asking him not to disturb Kasturba, who was taking her afternoon nap. Kasturba, woken up by the noises, took affront that she was not called. In her pleasant, pidgin English, she protested, "Bapu call you. Why you not call me? Why you open kitchen without permission?" But she immediately got herself busy with the preparation of the lunch. When finally Motilal Nehru complimented her, 'she beamed with delight'.
Krishnadas too observed the toll that the management of the Big Kitchen, and an ever generous husband, took on Kasturba.
Mahatmaji's kitchen at the Ashram is known, as the Big Kitchen. When he would be staying at the ashram., he would have every day many guests who would be served from the Big Kitchen. Whenever friends or acquaintances came to see Mahatmaji, he would make it a point to invite them to be his guests, and it became Ba's duty to prepare food with her own hands for all the guests, morning and afternoon. When this went on for some length of time, her health would visibly suffer and she would look a shriveled figure. On the other hand, I have often seen that when Mahatmaji stayed away from the ashram and she got some respite, her strength would return and she would look as fresh as ever. Thus I observed that in her daily life and activities she followed her great husband's ways by cultivating habits of indifference to or disregard of worldly pleasures and comforts.
Another small detail found in the biography on Gandhi by Narayan Desai stands out. In 1938, when Kallenbach visited India for the first time, Gandhi was staying at Bhulabhai Desai's house at Tithal. Gandhi was getting ready for his prayers. Kasturba and Mahadev Desai received Kallenbach at the railway station at 4 a.m. The seventy-year old woman made it a point to be personally present, so early in the morning, to receive a friend they were meeting after 23 years.
Kantilal Gandhi, son of Harilal, who grew up at the ashram and became a doctor, chose to marry Saraswathy, the niece of Ramachandran, Gandhi was aware and supportive of his courtship right from the beginning. In fact, he was quite upset but understanding of the break-up of another relationship that Kantilal had with another common acquaintance, a Muslim 'daughter' of Gandhi. Ramachandran wrote about this marriage:
"It was an inter-caste and inter-provincial marriage. She never raised any objection. She had completely given up caste and caste distinctions. I remember Bapu telling me that it pleased him very much that Ba never said a word against the marriage proposal just because it was inter-caste. From the earlier days when Ba had not given up caste, it was a long journey in her pilgrimage with Bapu when she at last gave up caste altogether."
Ramachandran himself married Soundaram, in another inter-caste wedding, in the presence of Gandhi and Kasturba at the Sevagram Ashram.
Kasturba's reputation, both on her own strength and as the wife of the Mahatma, was spreading far and wide. She was travelling extensively with Gandhi, not only taking care of him, but assisting him directly and indirectly in his work. Mahadev Desai recorded this incident from 1921 in his diary:
The other day again when revered Kasturba went to the Ganges for her bath, one of the many women bathing there, noticing her, exclaimed: 'O, this is Mataji!" And so all the loose coins which the women had tied in a knot at the end of their saris were laid at their Mataji's feet! But the climax was reached when an old woman in rags came up and laid one whole rupee at her feet. Revered Kasturba asked her, "Sister, who are you?" "A milk-woman," she replied. "That one rupee has come," a by-stander interrupted, "from hard-earned savings – from the retail sale of milk." But the kind old woman observed, "Mataji, that has been given for the good you are doing for the country."
Gandhi's own perception about Kasturba was also undergoing a transformation. After initially not wanting to expose Kasturba by thrusting positions where she could feel out of depth, he started believing that she had grown sufficiently in stature and capability to take on such responsibilities.
While speaking about the presidentship of the Gujarat Provincial Congress Committee, the subject of the qualification for president-ship was touched. Gandhiji said, "For a ladies meeting I would appoint as president a well-educated and highly-cultured woman like Srimati Jaiji Petit (an ardent Khadi lover of an illustrious Parsi family), if such a lady was at hand; otherwise, I would not hesitate to suggest the name of Surajbehn who is doing Khadi work, or, in her absence, of Ba (his wife, Mrs. Kasturba Gandhi). But I would never suggest any other lady, educated but without any interest in the work."
Prabhavati wrote:
"Ba had no ambitions. She never longed for any special recognition just because she was Mahatma Gandhi's wife. In public meetings she used to sit along with us in the audience, and when she was asked to come to the dais, she replied, "No, I would love to sit with the people here."
(13)
Gandhi detested the tag of Mahatma. He repeatedly emphasized that he made no claim to Mahatma-ship. But there was no escape from the myth-making and deification. Some people went one step ahead and depicted him and Kasturba as Krishna and Lakshmi. Gandhi was aghast.
To depict me in the likeness of Shri Krishna and my wife in that of Lakshmi is to shame us both. If, seeing these likenesses, we come to cherish notions about ourselves, we shall be guilty of sin. I am fully aware of my imperfections. I am but a humble creature aspiring after moksha and striving towards perfection. My wife is just an ordinary woman who strives to keep pace with her husband, suffering in innumerable ways as she does so. Our domestic life, I believe, is a happy one, but I have no other desire except to go to my final rest while doing my duty on the path of service. I am not at all enamored of the adoration of the world and my work has no such aim. Its only aim is my welfare. The self in me assures me that I do everything in the belief that it is my dharma to act as I do and, when any action is undertaken as being required by one's dharma, there can be no expectation of the world's adoration by way of reward. I feel extreme aversion to giving a single moment for receiving adoration. It does not, therefore, please me even to see my pictures being sold. To see myself, then, being depicted in the likeness of any perfect man or my wife in that of a perfect woman cannot but be intolerable to me. Those who have been selling such pictures will put me under their obligation if they destroy them. People who wish to honor me can do so only by loyally acting upon the principles which I have placed before the public. Those who pay me lip service or who collect my pictures while ignoring my principles insult me and people who represent me by holy images are guilty of irreverence. A wise man of old has said that no man should be called good before he is dead. He alone can attain moksha who, even in the face of death, does not cease thinking of God; he alone can be called good who does not forsake his goodness till his death.
The Khilafat and non-cooperation movement was launched in the early 1920s. But after the movement started turning violent at various places, culminating in the Chauri Chaura incident, Gandhi called a halt to it. The Gandhi family had resumed their visits to the prison. In fact, like in South Africa, the first Gandhi to court imprisonment was Harilal in 1921. Krishnadas narrates the scene at the ashram (in his book, Seven Months with Mahatma Gandhi):
On 11th December, news was received at the Ashram that Mahatmaji's eldest son Harilal had been arrested in Calcutta. Mahatmaji was very pleased to hear the news, and at once sent a wire to Harilal expressing his satisfaction. Simultaneously, he sent the following urgent message to Devadas, his youngest son, at Allahabad: "You may court arrest anytime – Bapu." The news of Harilal's arrest threw the whole Ashram into a state of joyous excitement, and men and women without exception were longing for the opportunity to offer themselves for arrest. It was clear to me that Mahatmaji's precept and example had driven out of the minds of the Ashram people all fear of gaol-life. Ba's example was inspiring. With justifiable pride she said, "I also have done three months with hard labor in South Africa," and she described the kind of work she had to do in the gaol.
Finally Gandhi himself was arrested in March 1922. He famously pleaded with the judge to give him the maximum punishment, or resign from his post. Krishnadas gave a peek into the mind of Kasturba, after he was sentenced:
He was lodged in the Sabarmati gaol for the two days following on the order of imprisonment; then all on a sudden, with no previous information or warning, he was removed from Sabarmati at dead of night on the 20th March. For two days after the removal we had no information about his whereabouts, and Ba passed those days almost in a state of living death. However, after two days of intense suspense and anxiety we learnt through non-official sources that both Mahatmaji and Shri Shankarlal Banker had been transferred to and lodged at the gaol at Yaravda near Poona.
While Kasturba was passing her days in a 'state of living death', Gandhi was writing in a letter to fellow worker and friend, Hakim Ajmal Khan:
Do please persuade Mrs. Gandhi not to think of visiting me. Devdas created a scene when he visited me. He could not brook the idea of my standing in the Superintendent's office when he was brought in. The proud and sensitive boy burst out weeping aloud and it was with difficulty I could restrain him. He should have realized that I was a prisoner and as such I had no right to sit in the presence of the Superintendent. Seats might and should have been offered to Rajagopalachari and Devdas. But I am sure there was no discourtesy intended. I do not suppose it is usual for the Superintendent to supervise such interviews. But in my case evidently he wanted to run no risks. I would not like the scene to be repeated by Mrs. Gandhi, nor do I want a special favour to be done in my case by a seat being offered. Dignity, I am sure, consists in my standing. And we must yet wait for a while before the British people naturally and heartily extend the delicate courtesies to us in every walk of life. I am not at all anxious to have visitors and I would like friends and relations to restrain themselves. Business visits may always be paid under circumstances adverse or otherwise.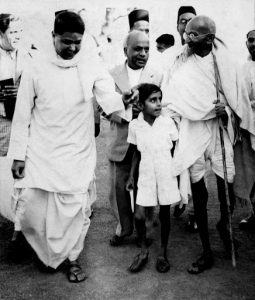 However, during the 15 months from October 1922, when Gandhi maintained a diary, it could be seen that Kasturba visited him 5 times. During this prison term, another issue which was to be raised repeatedly during all his prison term came up for the first time: Gandhi's reluctance to draw a distinction between family and friends, in drawing up the list of people who could visit him.
Ramachandra Guha recounts the active political role played by Kasturba, when Gandhi was in jail:
In May 1922, when Devadas was also arrested, Kasturba issued a message asking students 'to go on with the Khadi propaganda with all your youthful vigour and intensity and either release your brothers from the jails or fill up the jails to overflowing, thus showing to the world that India is determined to prove her self-respect to the last'.

Later that month, Kasturba gave the presidential address to a political conference in Ahmedabad. She urged the delegates to promote spinning and weaving, since 'no Empire can detain Gandhiji in jail a minute more as soon as India has fully realized the significance of khadi'. In June, when Navajivan printed a special number on women, Kasturba told them to show the same 'passionate love for the Motherland' as the young men were doing. Recalling how, in South Africa, many Indian women came forward to court arrest, she asked, 'Will the women here come out if a similar occasion arose? I have my doubts.' In July, Navajivan printed a special number on the suppressed castes. Kasturba now called upon the upper castes to 'purge yourselves of all your sins—and what sin is greater than your refusing to touch your brothers?'18 Then, on the occasion of Gandhi's birthday, Kasturba sent a message via Young India suggesting that the best way to celebrate the day would be to 'redouble our efforts for Swadeshi and recognize the claim of our untouchable brethren to our kinship in a practical manner'.

Ever since her return to India in 1915, Kasturba had stayed away from politics and public affairs. Now, with her husband in jail, she came forward to commend his programme to those still at large. Kasturba was a poor writer and indifferent speaker. The messages she put out were most likely drafted on her behalf by her nephew Maganlal Gandhi. Yet, the sentiments they conveyed were indisputably her own.
Gandhi was then released after he needed a surgery for appendicitis. Soon afterwards, he went on a 21-day fast at Delhi towards Hindu-Muslim unity. For the next few years, he largely stayed out of the direct political activities. His focus was on constructive activities encompassing Hindu-Muslim unity, khadi, prohibition and removal of untouchability. Like all the other inmates of the ashram, Kasturba too had embraced khadi and spinning. 'Spinning for three or four hours daily on the Charkha was no difficult job for Ba. She continued her spinning unless she was bed-ridden,' observed Prabhavati.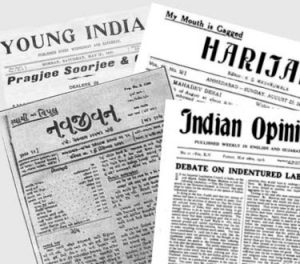 Speaking at the Untouchability Conference at Belgaum, in December, 1924, Gandhi spoke about his continuing difficulties in adopting a Harijan girl as his daughter, hinting that all may not be as well between Kasturba and Lakshmi.
That being so, it follows that the only means open to me for my purpose are those of ahimsa and truth. I have adopted an untouchable child as my own. I confess I have not been able to convert my wife completely to my view. She cannot bring herself to love her as I do. But I cannot convert my wife by anger; I can do so only by love. If any of my people have done you any wrong, I ask your forgiveness for it.

[Young India, 22-1-1925]
However, speaking to a young granddaughter from South Africa, many years later, on 8 June 1947, Gandhi reassessed the relationship between Lakshmi and Kasturba in more positive terms.
She was a devout Vaishnava, used to worship the tulsi, religiously observed sacred days and continued to wear the necklace of holy beads right up to her death. I have given that necklace to this girl. But she loved the Harijan girl as much as she loved Manu or Devdas's Tara.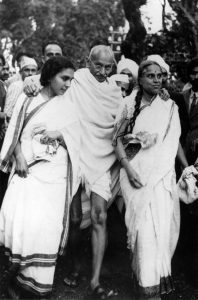 Sushila Nayar, in her reminiscences, wrote more in line with Gandhi's reassessment:
During my first visit to the Ashram in 1929, I had met a girl called, Lakshmi. She was known as Ba and Bapu's daughter and Ba looked after her like a mother. On my return from the Ashram, a friend tauntingly asked, "Well, did you make friends with the sweeper's daughter in the Ashram?" I was perplexed. I had not met any sweepers or sweepers' children there. The friend continued, "Has not Mahatmaji adopted a sweeper's girl as his daughter?" It was then that I discovered that Lakshmi was not Ba's own daughter but a sweeper's child. In Sevagram, Ba treated the Harijan servants like members of her family. She often remembered them in jail also. Whenever there was a discussion, she would remark, "After all, God has made us all. How can there be any high or low? It is wrong to entertain such feelings."
In the year 1927-28, many of Kasturba's concerns about her sons were laid to rest. Manilal married Sushila Mashruwala in March 1927. Devadas proposed to the young Lakshmi, and was advised by parents on both sides to wait for a few years. Ramdas married Nirmala Vohra at the ashram, in January 1928. Gandhi advised his son to the bride's true friend and not her master. In 1927, Harilal published criticisms of Gandhi. Gandhi wrote to his friend from South Africa, Ritch, that Harilal was a 'brave boy in one sense'. His was 'an open rebellion'.
In April, 1928, Gandhi and Kasturba suffered a huge personal loss. Maganlal Gandhi, whom Gandhi had 'singled out as heir to him' died. 'If I were fit to be anyone's guru, I would have proclaimed him my first disciple,' wrote Gandhi. Maganlal Gandhi was the 'soul of the ashrams', playing the major role in setting up and maintaining the ashrams.
Sabarmati Ashram had grown quite large. At one point in 1928, the common kitchen had 150 diners. This also meant that illnesses and deaths were common, putting enormous strain on Gandhi and Kasturba. In a letter to Mirabehn in October, 1928, he wrote:
I have been writing since 2.30 a.m., Kusum having got malaria.

There are so many now ailing. Chhaganlal Joshi's whole family is ailing; Narandas has a relapse, Ba had a severe time; Pyarelal is prostrate; Chhotelal is threatening again; even the strong Surendra has not escaped. There are others who need not be mentioned. Standenath I must not forget. He had a bad attack. So you may imagine the time I am having. Mahadev is in Bardoli.

Well, in spite of the catalogue, God seems to want work from me and keeps me fairly fit. But who knows—?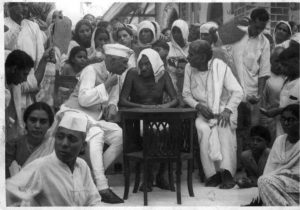 In February, 1929, Rasik, the second son of Harilal, passed away at Delhi, contracting typhoid, when he was teaching spinning along with his uncle, Devadas. Kasturba rushed to Delhi to take care of him. Harilal too had reached Delhi before the end. Gandhi wrote a letter consoling Kasturba:
You have acquired true knowledge. You showed great patience when you went to Delhi. I, therefore, hope that you are not grieving excessively. These children were brought up by you and, therefore, you are bound to suffer. But all of us will follow Rasik one day. Why should we, then, grieve when someone goes before the others? If you happen to stay on at Delhi, we shall meet on Sunday, the 17th.
Gandhi had developed a grim stoicism in the face of so many personal calamities but Kasturba still retained her tenderness, rushing from one city to another, tending to her sick sons, daughters-in-law and grandchildren. Gandhi would comment on this event more than 4 years later to Manibehn Patel, daughter to Vallabhbhai Patel, who had asked why did not attend the funeral of her uncle, Vithalbhai Patel.
Apart from this, there is another thing, too, in my life which you should know. Rasik was on his death-bed and he even wished that I should be by his bedside. But I did not go to Delhi, Ba did. Rasik died. I did not shed a single tear. I was taking my meals when I received the wire. I finished my meal and resumed my work. There have been many such incidents in my life. I have formed certain views about death and they are becoming stronger as the years pass. I do not look upon death as a calamity. Marriage may be that, death never is.
Gandhi's subtle sense of humor is on display here. Marriage may be a calamity but death never is.
In April, 1929, writing in The Bombay Chronicle, Gandhi confessed about his 'Shame and Sorrow' regarding three incidents. In the first incident, Chhaganlal Gandhi, brother of Maganlal Gandhi, was caught indulging in some minor larcenies involving very 'inconsiderable sums of money on the whole'. Only a few months earlier, Gandhi had convinced Chhaganlal to turn over Rs.10000, which he had somehow saved, to the ashram funds. Compared to that, this was inconsiderable but a violation of ashram rules nevertheless. He had left the ashram for the timebeing, and Gandhi hoped he would come back fully cleansed. (Chhaganlal returned with his wife in the next two months.)
In the third event, an affair between a widow and a young man, living in the ashram came to light.
It was the second event, which posed the biggest moral dilemma to Gandhi. The person in question was Kasturba. And this was a repeat offence for her.
About a year or so ago she had laid up a sum of about a couple of hundred rupees for her own use out of the small sums presented to her by various people on different occasions. The rule of the Mandir, however, is that even such personal presents may not be kept for private use. Her action, therefore, amounted to theft. Fortunately for her and the Mandir, thieves broke into her room about two years ago. This incident resulted in the discovery of the forgoing misappropriation. For a moment her remorse appeared to be genuine. Events have proved, however, that it was only momentary. Evidently it did not root out the desire for possession.
After the Chhaganlal Gandhi episode, an inmate of the ashram had noticed that she had not handed over a princely sum of Rs.4 to the ashram funds, when a visitor made a gift of it to her. The Secretary, Chhaganlal Joshi, 'though in fear and trembling', demanded the money from Kasturba.
Kasturbai felt the humiliation and quickly returned four rupees and promised never to repeat the offence. I believe her remorse to be genuine. She has agreed to withdraw herself from the institution should any other previous aberration be discovered against her or in case she should lapse into such conduct again. Her penitence has been accepted by Udyoga Mandir and she will remain there just as before and accompany me in my tours.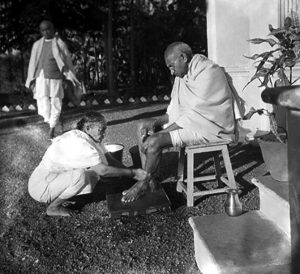 As for Gandhi himself, a couple of years before this incident, he had written a will declaring he owned no property and bequeathing anything found to be his to the Satyagraha Ashram.
In this whole episode, we do not know how Kasturba really felt. As with the rest of her story, we have to piece together her emotions through Gandhi's own writings. When Gandhi had asked her to give away her jewels many years ago, she had put up a spirited fight but now she had either mellowed down or matured, realized that the wife of the Mahatma had to be beyond the slightest suspicion and submitted quietly and willingly to the ashram procedures. Gandhi, in an unrelated letter to Horace Alexander, a little before this public confession, wrote, 'I can tell you that the relations between us are of the happiest kind. It is quite true if the writings gave you the impression that I do not carry my wife with me through her intellect. Her loyalty is amazing and she has followed me through all the transformations that my life has undergone.'
G.D.Birla might have objected to the public chastisement of Kasturba. Gandhi replied to him thus. There were no indications of any public or private arguments between Gandhi and Kasturba on this matter:
As for my article, I am sure I have saved Ba from a wrong. Ba also seems to take things in this light; otherwise, she could not have moved about with me with such a light heart. I have rescued Chhaganlal and Ba from several baseless accusations. I doubt if anybody else in our society has tasted to the extent I have the sweet joy of a public confession of one's own guilt. My only surprise is that you have been unable to appreciate this.
When people could not criticise Gandhi, they turned towards Kasturba. Often, they were wrong. Gandhi issued this clarification in Navjivan on 15-12-1929.
Although, both my wife and I belong to the Vaishnava sect, ever since we entered public life, that is, for about thirty-five years now, neither of us has the slightest recollection of my wife ever having gone for darshan of a maharaj [priest]. I fail to understand how the writer could have gathered the courage to publish such news. I myself do not have faith in touching anyone's feet. Even if this sentiment is worth nurturing, it will only be worthy of those individuals who are known for their integrity and character. I have never been able to convince myself that all persons born in the family of traditional maharajs are like gurus.
Kasturba travelled with Gandhi to locations as remote as Mirzapur. But when he had to go even further into more remote areas, where facilities were bound to be more sparse, he sent Kasturba back. Since they were together most of the time, he wrote, relatively, less number of letters to her, unless one of them was in prison. His letters to her are quite revealing, as seen in this short note written on 8th January, 1930.
I am sending herewith a letter from Ramdas. If I sat down to write myself, I would have to stop the spinning for that time. That would be so much loss to the country. Is it not better that I dictate this letter?
From his letters to others too, we get to know some of Kasturba's wishes and objections. In January 1930, she was not keen on sending away her daughter-in-law Nirmala, and her children, with her son, Ramdas. Gandhi convinced her to heed to Ramdas' wish. He urged Rami Parekh, Harilal's daughter, to pay Kasturba a visit, if her in-laws permitted her. 'Ba yearns to see you. I, on the other hand, get no time even to think about you all.' While he was 'furiously thinking day and night' on what should be the weapon of assault against the British empire, he wrote to his dentist, Dr.Romer, on January 23, 1930, about Kasturba's dentures, 'Could you please repair the accompanying set for Mrs. Gandhi? It slipped from her hand and broke.'
(14)
Gandhi chose salt as the weapon of assault. He decided to march with 78 others from his Sabarmati ashram to Dandi, 220 miles south of the ashram. The march would commence on 12th March 1930 and conclude 24 days later on 5th April.
The run-up to the march was tense, both politically, as no one believed initially that salt would move people, and personally, due to a few tragic deaths at the ashram. Three children died of small pox within a month. Many other children, including Narayan Desai, had small pox. While Gandhi did not prohibit small pox vaccination at the ashram, he refused to actively encourage it either. He believed that since the small pox vaccine was made using the body of a calf, injecting small pox vaccine was nearly tantamount to eating beef. Kishorelal Mashrumwala told Gandhi, "I know that you do not stop anyone from vaccination, but I would like if you were to advocate its use." Gandhi gave his reply during a prayer meeting. 'But holding the views that I do, how can I recant them? Because I see child after child passing away? No, not even if the whole of the Ashram were to be swept away, may I insist on vaccination and pocket my principle. What would my love of truth and my adherence to principle mean if they were to vanish at the slightest touch of reality?' he asked.
The deaths were followed by a marriage. On 2 March 1930, Maganlal's daughter Rukmini was married. Gandhi had to take the place of the late Maganlal. Pandit Narayan Khare, who had lost his six-year-old son, Vasant, to small pox on 25th February, performed the wedding rituals. He was also to be one of the marchers. On the same day, Gandhi wrote a letter to Viceroy Irwin, giving him notice of the impending march.
As the day of the march neared, people started turning out in large numbers for the evening prayer meetings at the Ashram. Contrary to his expectations, Gandhi was not arrested before the march. But Vallabhbhai Patel, who was to take over the march in case of Gandhi's arrest, was arrested a few days earlier. On March 11, Gandhi spoke unequivocally about what to expect from the march:
Let me, moreover, make one thing clear. Either we shall win the goal for which we are marching or die in the attempt to win it. There can be no turning back for us hereafter. We will keep on our fight till swaraj is established in India. This will be the last fight. The soldiers who accompany me must note that there is to be no retreat. Those of them that are married should take leave of their wives, and the wives should congratulate their husbands on their being the first soldiers of the country's freedom battle. We are as good as parting from the Ashram and from our homes. Only with complete victory can we return to this place.
This was no empty war-cry. The parting from the Ashram proved to be permanent. Two years later, he said, 'The Ashram exists in our hearts as much as it does on the bank of the Sabarmati. The Ashram on the bank of the Sabarmati can be seized by the Government or be swept away in the flood or be robbed, but no one can rob or burn the one in our hearts. That is the real Ashram.'
Mirabehn wrote about that night before the march:
'The night closed over the heavens, and still no police had come to take Bapu. We were all on tenterhooks, but Bapu was quite calm and carried out his usual routine as if there was nothing exceptional going on. When he lay down on his bed, Ba applied oil on his head and I rubbed his feet with ghee. We kept quiet as he seemed thoughtful, and after a few minutes he was peacefully sleeping.

The crowds that had gathered did not return to their homes, but camping at a respectful distance all around the Ashram, kept vigil till dawn. I think Bapu was the only person who slept that night.'
On March 12, the Dandi march started. The marchers and those who had come to see them off could be called as 'traitors and patriots', noted Mahadev Desai in his diary. His son narrates the farewell ceremony, which he terms as 'not gloomy and melancholic; the mood was one of festivity'.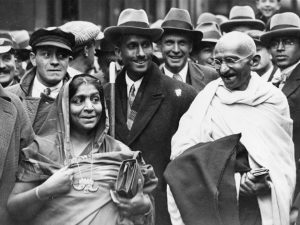 Kasturba bade farewell to the marchers by applying vermilion and rice on their forehead. Gandhiji was the first in line. She had to bid farewell to three generations of Gandhis. Along with Gandhiji, Manilal and Harilal's son Kantilal were part of the band of marchers. Premabehn Kantak of the ashram's girls' school could not contain her emotions and she hugged Gandhiji after touching his feet. The girls in the ashram applied tilak to the marchers. Kakasaheb handed to Gandhiji the now famous lathi. Pandit Khare sang 'Vaishnav Jan To' and the Ramdhun.
The march was meticulously planned out. The Gujarat Vidyapeeth had deputed a vanguard that would reach the stops in advance. 'Their calculations were wrong at Ellis Bridge. The bridge and its railings were filled with people. It would have been impossible for Gandhiji to cross the bridge without causing a stampede. He decided to cross the river by walking through its shallow waters. He finally convinced Kasturba to return to the ashram.'
Gandhi reached Dandi without getting arrested. He picked up salt, and became a 'Law Breaker'. When the government still let them be free, they decided to raid the salt depot at Dharasana. Women had been kept out of the march so far. But now it was now resolved that women would picket liquor booths and foreign cloth shops. Many women walked over twelve miles to attend meetings held at Dandi on 13 April and Vijalpur on 16 April.
Kasturba was to travel to Kardai from the Sabarmati Ashram to meet Gandhiji. Gandhiji told her to come prepared for imprisonment. She of course had been prepared for this for a long time. Gandhi wrote to Mahadev Desai, 'Tell Ba that she has been posted to do picketing of liquor booths at Jalalpur and that she should, therefore, come after making all necessary preparations.'
Gandhi was arrested at the Kardai camp during the night of 4th May. After Pandit Khare sang 'Vaishnava Jana to', the bhajan with which the march had commenced, Gandhi went off with the police to the Yeravda jail at Pune.
The seventy-five year old Abbas Tyabji took over the leadership of the marchers, along with Jugatram Dave. 'On the morning of 12 May, after being blessed by Kasturba and Mrs.Tyabji, the marchers set off for the Dharasana salt depot.' The leaders were arrested. On 21 May, Sarojini Naidu and Manilal Gandhi led around 2500 satyagrahis to Dharasana in an attack that 'fetched headlines across the world even if no salt was collected.' Along with many marchers, Manilal was also injured and arrested.
About 90000 Indians were arrested during the 1930 movement. But Kasturba's time for prison had not yet come. The proud and anxious wife, mother and grandmother remained outside for the time being. Gandhi wrote to her from the prison:
Take this letter as meant for all. How good it was that I met you all on Sunday evening and accompanied you back as far as your camp? I was very happy that I did so. God is showering His grace on me. Let all the women write to me. All the letters should be put in one envelope. Most likely I shall get those letters. If I don't get them, it will not matter. Do not feel nervous, any of you.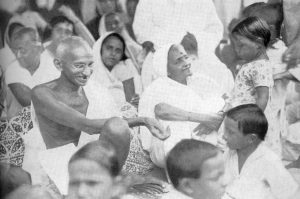 Kasturba had continued the struggle from where Gandhi left it. In the book, 'Ba and Bapu', Mukulbhai Kalarthi narrates her campaign:
Ba continued his campaign and went about from village to village. This tired her out completely. So she went, along with Vanamalabehn to Maroli Ashram for rest. One morning after prayers, just as they were sitting down to breakfast, a telegram was received from Borsad, saying that Ba's presence was urgently required there. For, as a result of the no-tax campaign of the peasants, propagated by some of the women volunteers, the latter had been beaten mercilessly by the police. This had roused the indignation of the people. So Ba was called to sustain the peasants in the struggle. Accordingly, without even taking her breakfast, she began to pack up to go to the railway station to catch the first train to Borsad. But Vanamalabehn dissuaded her in view of her feeble health, and, instead, offered herself to step into the breach. Ba, however, did not pay any heed to her appeal and went immediately to Borsad. On arrival there, she first visited the wounded in the hospital, then she went about among the people. The doctors, seeing the strain on her, advised her rest. But she refused, saying, "In Bapu's absence I must stand by the people."
From the prison, Gandhi inquired Narandas Gandhi, who was now the manager of the Satyagraha Ashram: "I read in papers about Ba having been harassed in Surat by the police. Is there any truth in the report?" He wrote to Ramabehn Joshi, "Ba, it seems, is doing some good running about. I see that all the women will have to shoulder a still heavier responsibility than they are doing."
Kasturba issued a press statement after her visit to Borsad:
Wherever I went, I saw marks of lathi blows on chest, back, head, waist, and leg . . . I was doubly grieved on hearing that police caned children, pulled women by the hair, dealt fist blows on breasts of women, and uttered indecent abuses to women. The fact that there are such policemen in India, points out the black spot of our society. This is the first occasion in my life, when I have seen such inhuman treatment meted out to ladies in Gujarat. [Guha]
Gandhi was released on Janurary 26, 1931; he was called for talks with the Viceroy, 'a seditious Middle Temple lawyer now posing as a fakir striding half-naked up the steps of the viceregal palace to parley on equal terms with the representative of the King-Emperor,' in the words of Churchill. Gandhi, after intense negotiations, agreed for a pact with Irwin on 4th March. All the political prisoners were released (barring, controversially, Bhagat Singh and his associates; Irwin firmly rejected Gandhi's plea to release them as well). Gandhi agreed to attend the round table conference at London.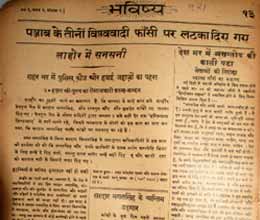 Meanwhile, Kasturba attended a meeting in Bombay on 4 Feb 1931, held to condemn the police brutalities in Gujarat. Her speech was read out:
It said their struggle was based on truth and non-violence, and thanked the women of Bombay for so spontaneously sympathizing with 'their village sisters' by raising a 'united protest against the atrocities of [the] police in a distant place like Borsad'. [Guha]
When Willingdon replaced Irwin as Viceroy, Gandhi found him to be indifferent to the pact. He met him and described the meeting as 'bereft of all grace'. However, there was also another more courteous and pleasant meeting on the sidelines. Lady Willingdon had invited Kasturba to meet her twice. First, Anusuyabehn Sarabhai, and, then, Lady Chinubhai accompanied her. They had committed to make a khadi saree for her. Two months later, Lady Willingdon reminded Gandhi of the saree, and he in turn, asked Anusuyabehn to send the saree to her, if it was ready, or to write an apology note to her, if it wasn't. One wonders what Churchill had to say about a semi-literate woman, speaking pidgin English and parleying with the wife of the Viceroy on equal terms over a khadi saree, the very instrument that was devised to declare Swaraj.
(To be Continued…)