Soon after the SARS-CoV-2 virus was identified in Wuhan in December 2019 and a pandemic started developing, the Indian government acted reasonably quickly to bring the Indian citizens stranded in Wuhan and other foreign countries to India, despite the risk of spreading the novel corona virus in India. Irrespective of the merits of the move, the intentions cannot be faulted. However, when a lock down was announced in India, we cared little for the millions of migrant workers spread across different parts of India.
With their livelihoods lost, they couldn't afford to stay in their cramped quarters in cities. With trains cancelled they couldn't head back home. If they went back to the villages, they risked being carriers. If the relatively fewer people who returned from abroad could not quarantine themselves properly, how could we expect these millions to quarantine themselves after they return to their villages. What was better – it was a difficult decision and a catch-22 – to have them in cities or let them go to villages? Anyway, wherever they were, they needed help – food and money and healthcare – to survive days of unemployment and potential illness.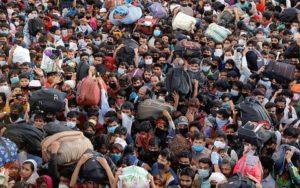 Same is the case with daily wage earners, contract workers and anyone with uncertain incomes and no savings. The certainty of incomes in the organized sector will also be tested soon. Even during milder business downturns, the corporate sector had responded with workforce reduction and pay cuts.Small businesses are going to be hit unimaginably hard. If their immediate revenues and cash flows are going to be impacted, how are they going to pay their salaries and rents?
Quick financial relief had to be provided to all of them and it had to reach the last person first. Else a bigger trouble than corona was imminent. Relief had to precede a lock down. Some states like Tamil Nadu, Kerala and Maharashtra announced some early measures but they were clearly not enough. The center had to step in.
The governments, in particular the central government, paid the least attention to this aspect before announcing the lock down.
Money could be and had to be found, at least for a few months. We could have suspended all fancy projects like bullet trains and statues and temples. We could have deferred all defense procurement. The Rs. 20,000 crore approval for the Central Vista Redevelopment could have waited. The superhighways could wait. Airlines and big corporates could wait. The entire budget could have been reworked by the task force at its own pace to make room for relief measures. But relief must have been announced before or along with the lock down and should have reached people immediately and the poorest first.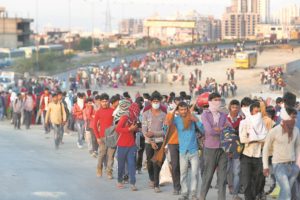 What we actually saw was benumbing. The task force, under the Finance Minister, announced by the Prime Minister during his first speech, when he announced a token janata lock down for a day, was not formed immediately. The Finance Ministry could not give any timelines for the formation of the task force, four days after the announcement. When the Finance Minister did announce the relief, it was too little, too late.
When Section 144 was imposed in Tamil Nadu with one day's notice and reduced transport options, it was immediately evident that it was a colossal mistake. Thousands of people rushed to the bus stands to head to their native places. Had there been an outbreak because of these crowds, many other good initiatives by the state government would have been offset. Earlier too, when the one-day janata lock down was announced, there were huge crowds at the railway stations in various cities. However showing scant regard for such experiences, the Prime Minister announced the lock down the very next day, with just 4 hours notice. The trains had already been cancelled. There was not a single mention about arrangements for food and shelter for the migrant workers and the homeless.
Ultimately, we started seeing what could be the largest migration in post-partition India. People started walking towards their homes located in other states, from the south to the north and from the west to the east. It is not unusual for Indians to walk long distances. Pilgrims walk long distances to places of religious importance. Protesting farmers have walked hundreds of kilometers to press their demands. Gandhi's greatest moments came through his Great March in South Africa, Dandi March and the Naokhali Yatra. Vinoba and his followers have walked the length and breadth of this country for the Bhoodan movement. My family and I have personally walked a relatively shorter distance with a friend who has been walking across the world for world peace. Yet this forced migration during a lock down, with women and children on foot or even the shoulders of men, when food and water was unavailable on the way, was heart wrenching.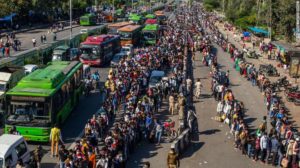 The role of central government was extremely crucial in the case of inter-state migrants. The local people do not care about them much. The state governments do not look at them as priority. There are no family support systems for them wherever they are. There are deep-rooted biases against them, whoever and wherever they are… linguistic, racial, religious and national biases. The central government failed to consider the plight of migrants and their own responsibility in alleviating the pain of migrants.
"The Indian government found it fit to charter planes with medical staff to fly in migrants from other countries. But it felt no responsibility at all to the millions of migrants stranded without work and food in every corner of the country. If they try to walk to the state borders, they are beaten by the police. Those who persevere or cross by stealth are being compelled to trudge or cycle, sometimes thousands of kilometers, to reach their villages, dodging hunger and the police along the way. Truck drivers are trapped on highways across the country, in a purgatory from which they have no escape or succor," wrote Harsh Mander.
Unplanned Lock down
Many supporters of the government claim it is an unexpected and unprecedented crisis and the government has been doing the best it can and we should not be too hard on it. On the contrary, it was unprecedented but not unexpected, and without continuous criticism and call for corrective actions, things would have been worse.
The COVID-19 pandemic is certainly a catastrophe. But India, unlike many other countries, had more time to anticipate it and plan for it. We had the opportunity to learn from others' mistakes and successes. "COVID-19 is a disaster that came with prior warning, and therefore did not warrant an arbitrary, unplanned and ill-prepared decision," said Aruna Roy and Nikhil Dey in an empathetic essay. Right from February and early March, many who were tracking the worldwide developments were anticipating a lock down of some sort in India. In fact, some who I follow on Twitter were even advising against airlifting people from Wuhan and other places, saying we will not be able to control the spread and that China would handle them better in a closed area…whether it is right or not, the risks were pretty clear.
If individuals with limited visibility and knowledge gained through media reports could anticipate this much,one would expect the central government, with its huge battery of diplomats, bureaucrats, advisors and strategists, and information, to have been prepared better. They should have been ready with the plan for economic relief and the modalities for delivering it, long before the lock down. They should have checked the readiness of our hospital infrastructure, availability of personal protective equipment (PPE) for the health workers and our ability to do testing. They should have known that there are 100 million migrant workers and a lock down cannot be announced dramatically without addressing their concerns. Those who wanted to go home should either have been allowed to home after screening or testing, as required, or massive shelters and food and compensation should have been arranged in advance.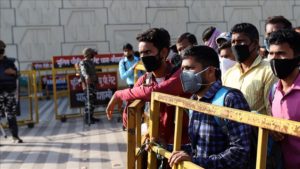 The Prime Minister should have announced the economic relief and a robust plan for the homeless workers along with the announcement of lock down. The government could have been excused if it had planned and failed but here they failed to plan. A lock down without telling people how to face it and without equipping them to face it created more panic than it would have done otherwise.
It eventually turned out to be a lock down of the privileged for the privileged by the hardships of the poor. "This lock down is shaping itself as the expedient response of an elite terrified of falling victim to a virus. There is clearly little imagination or application to work out a plan of action based on compassion and understanding of conditions on the ground," wrote Aruna Roy and Nikhil Dey.
Many state governments somewhat saved the day for us so far, keeping other things under reasonable control. They also made mistakes but at least they were seen to be trying. However, in our current structure where much money, power and information lie with the central government, the central government failed us. This migrant exodus is a disaster that could have been anticipated and averted to a great extent. It is not just the wisdom of hindsight but what many of us feared and warned before the lock down.
Relief Measures
The bar had been set so low that even critics of the government moves were just relieved when the center finally announced a relief package. On closer scrutiny, the relief measures for Rs. 1.7 lakh crores, announced after the migration had started irreversibly, fell short of expectations. "The government's 'package' is a curious blend of callousness and cluelessness. It's not just one virus we're fighting – pandemics are also a 'package.' Of which economic distress can be a self-inflicted or self-aggravated part – driving us from calamity to catastrophe," wrote P.Sainath.
"Pensioners, widows and the disabled will get a one-time amount of Rs. 1,000 in two installments over the next three months? And 20 crore women with Jan Dhan Yojana accounts will get Rs. 500 each for three months? That's worse than tokenist, it's obscene. How will raising loan limits for self-help groups (SHGs) change a situation where getting an existing loan amount is a nightmare? And how exactly will this 'package' help those countless migrant workers stranded far away, trying to return to their home villages?" adds Sainath.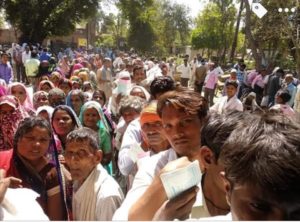 " 'No one will go hungry', she [The Finance Minister] promised. Did she really believe that five extra kg of wheat or rice and 1 kg of pulses for a family, Rs 1,000 for the aged, disabled and widows, Rs 1,500 over three months for women with Jan Dhan accounts, free gas cylinder connections, and a Rs 2,000 cash transfer to farmers under an on-going scheme, would ensure this?" asked Harsh Mander.
"But this package is more modest than it sounds. Indeed, the budget has been padded. For instance, by including Rs16,000 crore of pre-committed Pradhan Mantri Kisan Samman Nidhi (PM-KISAN) expenditure, and Rs. 5,600 crore for Mahatma Gandhi National Rural Employment Guarantee Act (MNREGA) scheme wage increases that had already been notified by the rural development ministry on March 23," observed the economist, John Dreze.
Moreover, with no work possible during the lock down, no wages are going to be paid out through MNREGA, leave alone the benefits of wage increase being passed on to the needy.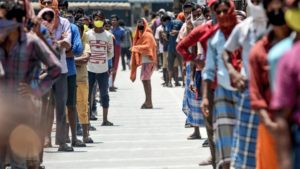 Further, as Dreze points out, many poor people are excluded from the PDS and many poor women do not have Jan Dhan accounts. As per a report in Business Today (Nov, 2019), 17% of Jan Dhan accounts are dormant. It would be wiser to transfer money through accounts linked to MNREGA.
"There are, also, implementation barriers for each of these. How, for instance, will they draw money from their accounts during the lock down? And the most food-vulnerable people, such as street children, homeless and disabled persons, and remote and nomadic tribes don't have either accounts or cards," wrote Harsh Mander.
The State governments also announced relief measures. In Tamil Nadu, the relief is provided through its relatively more widespread PDS network. Tokens are being issued for people to collect the food material and money is being delivered at homes.
The central government has no unveiled such plans to ensure the relief reaches everyone. The few women who I spoke to in our village either do not have bank accounts or do not know if their accounts are Jan Dhan accounts. I do not see any measures being taken to create awareness on this front or to ease the logistical difficulties.
A friend working in a bank in a rural area wrote, "Huge rush in PSBs for Corona Wala Paisa since two days, with the added burden of annual closing and bank MERGERS happening this instant (NOT POSTPONED). We have had to call in the police for crowd management as well. Many branches have had to report to district authorities that customers with a stamp of 'home quarantine' on the back of their hands have also spent upto an hour in bank premises. Honorable FM should arrange isolation for bankers in and around bank premises. Don't let us go back home, so we may not put our families at risk. So that every customer walking in knows it's a voluntary walk in to a hotbed of infection."
Another question that remains unanswered is how the migrant workers who are either in transit or in shelters arranged by the state governments or voluntary organizations are going to benefit from these relief measures. During the hearing a petition seeking wages for the migrant workers, the Chief Justice of India SA Bobde asked, "If they are being provided meals then why do they need money for meals?"
When the social distance between the government and honest people on the ground like Aruna Roy or Harsh Mander increases, when you turn a deaf ear to a P.Sainath or a Jean Dreze, this inhuman situation is what we would end up with time and again.
Communal Color
After many participants who attended the Tablighi Jamaat Conference at Delhi tested positive, corona gained a communal color. While there can be no justification whatsoever for holding the conference during a pandemic, the government also had its share of blame in allowing foreigners to visit India during that month and not testing them. It must also be remembered that no place of worship of any religion was closed at that time. There were many seminars, conferences and meetings still being organized by educational institutes, corporates, political parties and the government in the months of February and March. There were no curbs on family events and weddings. Any such event could have caused a similar outbreak. It so happened that the Tablighi conference was hit badly and they are to be blamed for neglecting the precautions. With similar rigorous testing, other such sources of outbreaks, if any, could also have been identified. However, singling out the event has brought in a communal angle to the pandemic. Muslims were pilloried on the social media. The news channels kept making references to Delhi Religious Conference. The fake news industry went abuzz. The already fragile fault lines between the two communities were widened further. Even a remote rural area like ours, where one person tested positive, was not spared by the social media propaganda. Almost every villager I spoke to blamed the Muslims for bringing the disease to our area and for the overall spike in numbers. Some of them even insinuated that they might have deliberately contracted the virus to spread terror. No amount of reasoning makes any difference.
When no other source of outbreak was published individually, the governments published the data on Delhi conference participants separately, thereby stoking more suspicion and hatred. It is appreciable that everyone who participated in the event was identified and isolated as necessary, but to reserve this kind of rigour only for this event reeks of a pervasive communal agenda.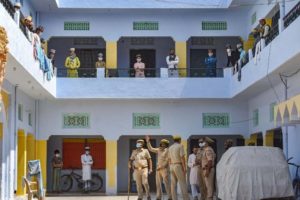 A report in DownToEarth summarised the situation:
/"The doubling rate (of COVID-19 infection) in India is 4.1 days. Had the congregation at Nizamuddin (of an Islamic sect called the Tablighi Jamaat) not happened and additional cases not come, this would have been about 7.14 days," Agarwal [Union health ministry joint secretary Lav Agarwal] said.
According to WHO Emergency Programme Director Mike Ryan: "This does not help." Having COVID-19 is not anybody's fault. Every case is a victim. It is very important that we do not profile the cases on the basis of racial, religious and ethnic lines," Ryan said on April 6 to a India-specific question./
Many Chief Ministers did speak out against the stigmatization of Muslims. For instance, even the BJP Chief Minister of Karnataka, B.S.Yeddyurappa, said, "Muslims are giving us full cooperation. Nobody should speak a word against Muslims. This is a warning. If someone accusing the entire community for a stray incident, action will be taken against them." However, the damage was already done. The impact of this communalisation of a contagion will long outlast the actual effects of the contagion itself.
Religious institutions have played a part in the spread of the virus the world over. The virus was termed as the China Virus by the brazen American President. There were isolated acts of racist discrimination. Yet the level of castigation of a community in India is in a different league. 'Never let a pandemic go waste,' was a fiendish advice dispensed by a few persons during the early days of the pandemic, advocating forcible societal behavioural changes. The diabolical vilification of a community using the stupid but unintended transgression of a section of the community has taken that maxim to an altogether different level. It has also diverted the attention away from the plight of the migrants and the poor.
Civil Obedience Programs
During the lock down, the Prime Minister proved to be an extremely popular leader who could demand mass obedience from the people. The people, especially the middle classes, reciprocated positively to the many demands made by the Prime Minister. But what he demanded from himself and the people, apart from the hardships of the lock down itself, amounted to nothing more than tokenism. He asked people to bang plates and light lamps. Apologists and astrologers soon followed with nuggets of wisdom to attribute scientific reasoning, planetary alignment and spiritual rationalization.
Banging the plates seemed to be a harmless indulgence which we could simply ignore. Then we saw processions of people clapping and banging and dancing and marching, when physical distancing was the paramount necessity. Switching off the lights and lighting candles and lamps also seemed to be another harmless fiddling indulgence. Then we heard experts warning about a potential grid failure that could be disastrous in these times of health emergency. The electricity boards were prepared with appropriate measures and a grid failure was averted (which in turn was used to ridicule those who warned of a grid failure). However, people got together again and burst crackers allover the country, even in villages. It became evident that we have an unplanned lock down but a planned entertainment.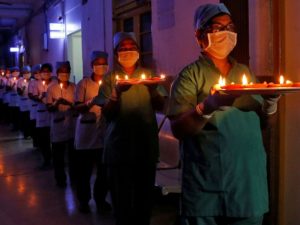 The Prime Minister graciously apologized for the difficulties faced by the people due to the inevitable lock down. But he did not apologize for the lack of preparedness and planning on the part of the government. He did not apologize for not doing enough to avert the great migrant exodus. He did not apologize for the police excesses at many places. He did not apologize for the deaths during the lock down which kept pace with the deaths due to Covid 19. An analysis put the death count due to the lock down at 77 in the first week alone, not far behind the corona related deaths.
Police Excesses and Surveillance State
Another marked aspect of the lock down regime was the unlawful exercise of power by the police force. While the law clearly defined what action needed to be taken for violations during the lock down, the policemen, at many places. came up with their own laws. These laws were often written with lathis. There were a few reports of deaths due to attacks by police. Many migrant workers on their long marches towards their distant homes were made to kneel and crawl. In another inhuman act, a set of migrant workers walking towards Rajasthan from Karnataka were stopped in Gujarat, beaten up, stuffed into a closed container of a truck and sent back to Maharashtra. In some videos, the police were seen to be smashing vegetable carts of roadside vendors. Most people who did not have to venture out welcomed the highhandedness of the police to enforce the lock down. It is essential that we expect the police also to abide by the same laws that we expect the citizens to follow. Such exigencies should not become excuses for conferring extra-judicial powers on the police.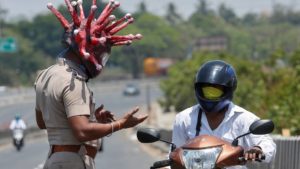 While there were some strong voices opposed to the police excesses, the ushering in of the surveillance state slipped by almost unnoticed. The world over, authoritarian regimes have seized the opportunity to introduce surveillance measures that could continue well after the pandemic is over. Manual surveillance and technology assisted surveillance have all been employed. Mobile phone apps that track individual's interactions with other people, their movements and activities have all been introduced. Government promoted apps promised to alert users if there are any corona positive persons in the vicinity. We need to be wary of what we sign up for. It may seem essential during this emergency but might get normalized after we get past it.
Need for decentralization
In the village panchayat near Pollachi in Tamil Nadu where I live in, it was heartening to hear people belonging to various parties set aside their party rivalries to work together on corona awareness and relief activities, which had reached a frenzy early last week after a person from one of our villages tested positive. The government authorities and health workers also turned up in full strength. Health workers visited all the houses inside the villages, taking stock of the situation. One concern is that while the panchayat, on its own and urged by the government, takes up a number of disinfection activities, no additional funds were allocated. This could prove to be a problem for many local bodies.
In Sittilingi, a panchayat in a tribal area in Tamil Nadu, the preparations to counter corona had started in mid March. They brought in various measures like awareness campaigns, distributing masks, physical distancing, home quarantining migrants who returned, token systems for distributing rations and other such initiatives. The Panchayat President, Ms. Madheswari,worked in tandem with the PHC, Tribal Hospital and other Govt departments to ensure a coordinated effort. 'It seems our people in this remote tribal panchayat did better than most small towns or urban areas,' said Regi George, who with his wife and fellow doctor Lalitha George had helped transform the area through their Tribal Health Initiative. (In an interview to The Telegraph).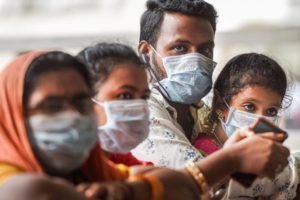 In general, the state governments and the local bodies have been at the forefront of handling the most difficult tasks during this crisis. There have been huge anomalies in the allocation of funds by the central government to the states to combat corona. The unfair allotment of funds to Kerala, a state which is among the most affected areas and has also hosted the most number of migrants in shelters, was strikingly partisan. It has become increasingly clear that what the states need the most from the center is money. Largely, their money. A weaker center and stronger, more autonomous states and local bodies should be the top priority for all of us, after this crisis is over – not just state autonomy but local autonomy at a panchayat and corporation level.
The increasing privilege gap
The lock down also brings to the fore another issue. Long vacations and breaks pave the way for increase in academic gap between children from privileged families and the poor families.
David H. Albert in his book, 'Dismantling the Inner School – Homeschooling and the Curriculum of Abundance', cites a research published in 2001, by Karl Alexander, a sociologist at John Hopkins University. Alexander followed 650 first graders and found that, after five years, children from low socio-economic class backgrounds, after starting with only a small deficit, were well behind those from higher ones. But he also found that cumulative classroom learning over the five-year period was virtually the same. The difference was a result of what happened to the reading scores of the two groups during summer vacations.On that basis, it is asserted that keeping the kids (especially the poorer ones) in school would help bridge the gap. But rich kids gain most when they are not in classroom. So, the question should be what can be done, in their homes, families, and communities outside of school and instead of school to improve the quality of their living and learning environments.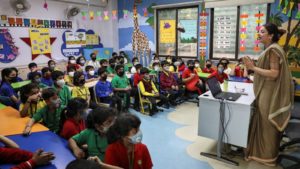 Children from privileged families have increased access to internet, online coaching, parental guidance etc. during this lock down. Many poor students make up for lack of such opportunities by gaining other skills, working along with their parents or alone. Those avenues are also now largely unavailable to them during a lock down. Underprivileged students aspiring to appear for entrance exams will now be unable to avail the benefits of public libraries and free coaching classes. The gap in the ability of these students to crack entrance exams from NEET to Civil services is going to be widened in this corona induced break. Merely postponing the exams would not rectify this issue. There has to be a rethink on the whole process of selection through competitive exams.
Post COVID19 World
While the spread of corona in India and the mortality due to corona have not been as bad as other countries, the impact of the lock down has been worse. The objectionable language of war has been used frequently against corona. It must be said in the same vein, this is turning out to be a Pyrrhic war.
With a full or partial lock down for a longer duration seeming inevitable, many different approaches need to be quickly evaluated, considering the economic impact too, and plans for each scenario have to be devised in advance. It is worth reiterating a million times that the weakest sections of the society have to be taken care of first.
In the post corona, post lock-down world, we can expect a slew of economic bailouts for large corporates. The governments of the world will focus on reviving the industries, in pushing up manufacturing, increasing consumer spending and reducing unemployment.
However, an opportunity to redesign and restructure our way of life has been presented to us. The debate on climate emergency over the last few years had brought about a focus on alternative approaches. The lock-downs have exposed the frailties of an economic system dependent on centralized control, mass production, transportation of the produce to distant parts and expensive private healthcare. We must explore alternative methods of production, self-sufficient local communities, elimination of large scale migration for employment, simpler lifestyles, decentralized political setups, equal opportunities and public infrastructure for education and healthcare for all. Corona could yet become the catalyst for making this world a better place.
References: