Rathnakumar was getting ready to go to the Bharathanatyam performance. The programme included a felicitation speech by Vyjayanthimala. His friend Selvin Rajadurai was a fan of Vyjayanthimala. They had both viewed the film Sangam starring Raj Kapoor and Vyjayanthimala several times.
After his wife Lalitha's demise, Rathinakumar realized how complicated it was to live alone. He realized that Lalitha had mediated between him and his sons and that her absence had further deepened the rift and sense of emptiness between them. He had a foreboding that this would only continue to widen with the passage of time. While his wife was alive he hadn't thought of her existence as something indispensable to him. But now, when she was no longer there, he felt utterly helpless. His elder and younger sons lived with their families in Chennai and Kovai respectively.
He was repeatedly assailed with old memories. While riding a two-wheeler or some other vehicle his mind was consumed by the irrational fear of getting into an accident. In addition, he was also affected by the fear that his lonely existence would be dogged by sudden illness. Often, he entertained the thought of renting out his house and moving into an old age home.
Examining his past, he felt he had treated his sons fairly. But for some reason both viewed him merely as someone duty bound to bail them out in their hour of need. Rathnakumar was aware of this as well. Right from their childhood it was Lalitha who had catered to their needs and they too went to her exclusively to voice their needs. Rathnakumar had always been distant.
When his wife was still alive they tried staying with their sons, alternating between the two. But they were not happy about it. Though both their sons were well educated they preferred running a business to getting employed. Rathnakumar had sold his land in order to give them seed money and was constantly apprehensive of their financial demands.
Both sons had no children yet. Rathnakumar himself had fathered his sons when he was getting on a bit in years. Temptation reared its head when he saw his elder son Suryaprakash's wife Periyanayaki. Periyanayaki's physique and her face were to his liking. Even when they had visited Periyanayaki's house for the first time on a traditional bride-seeking visit he was troubled by her physical attributes and her face. He was morally confused and wasn't sure if he should choose a woman who attracted him as his daughter-in-law. But Lalitha and Suryaprakash liked her looks. This and the confluence of other aspects made the marriage inevitable.
When he was staying at Suryaprakash's house Rathnakumar would avoid speaking face to face with Peryianayaki. He was particularly troubled by his instinctual arousal at the sight of Periyanaki after her bath, a towel wrapped around her wet hair. "Lord, you are testing me" he would mutter to himself and attempt to divert his attention elsewhere.
Lalitha was always careful on financial matters. It was her thriftiness that enabled Rathnakumar to accumulate wealth. At the time of Suryaprakash's marriage Lalitha was very stubborn on matters related to dowry, particularly money and jewelry. Periyanaki loathed her for this.
'If my husband asks for money to expand his business why can't they sell their land and give him the needed money? In any case after their demise wasn't all their wealth going to be inherited by my husband and his brother. What is the use of having wealth if one can't use it when one needs it? Instead of this, what is one to do if one were asked to seek money from one's father. Didn't they know about my family's financial situation at the time of our marriage? Weren't they the ones who begged for this marriage because they were bowled over by my beauty?" Periyanayaki indulged in thoughts like these that made her hate Lalitha more.
The younger son Chandraprakash's was a love marriage. Rathnakumar and Lalitha didn't like his wife Senthamarai. They felt that she put on airs, considering herself well educated and superior to them. Having sacrificed wealth for beauty in the case of her first son's marriage Lalitha had plans to seek a bride for her second son from a wealthy family. But distressing circumstances forced her hand and she had no choice but accept Senthamarai as her daughter-in-law. The marriage itself was conducted in a fashion that was completely different from what Lalitha had in mind.
When Rathnakumar and Lalitha stayed at Chandraprakash's house for a few days they didn't like the way Senthamarai treated them. Senthamarai thought that indifference and haughtiness towards one's in-laws was the best way to prevent them from lording it over their daughters-in law and she put that into practice. Her husband's infatuation devolved his power to her and she had the smarts to wield it over him.
"What a boy he was and yet now he runs after this dark sorceress and does her bidding. God knows what magic potion she has! We don't matter at all; she has become everything to him". Lalitha lamented to her husband often.
Rathnakumar on the other hand was alienated by the fact that his daughter-in-law once gave him money in front of guests and asked him to go to the shop to get milk and snacks. One needs to have something in store for visitors and guests. Milk at least or else the ability to manage the situation and see them off. Instead, he was called to go to the shop and he too had obliged. On his way back from the shop he felt that Senthamarai had insulted him. But Senthamarai was not one who would give it much thought.
On being informed by his sons that they were both going to visit them with their families for the Vinayaka Chaturthi festival Lalitha and Rathnakumar had a hunch that they were up to something. They were a bit confused as to how they would handle the situation if their sons importuned them to sell their property and give them money. Lalitha was adamant that her grandchildren, not her sons, should be the ones to inherit their wealth and that it should be protected at all costs.
On the evening of Vinayaka Chathurthi, while they were sitting around talking, both their sons informed them that they needed additional capital to expand their businesses. As they did not have the necessary cash on hand they suggested that property should be sold and proceeds invested. "This property belongs to our grandchildren. If we sell it we won't be able to repurchase it. Moreover, this is not ancestral property, it has been acquired solely with your father's earnings. If you need money, maybe you should both try asking your respective in-laws" Lalitha said.
"You very well knew of my family's financial situation when you asked my hand in marriage. It is you who should help your son." Periyanayaki retorted. Rathnakumar felt she looked very beautiful in profile. His only complaint was that she had cut her long braids short. He interjected diplomatically "What your mother said was very correct. Indeed, we should preserve the property for our future generations."
"Are you implying that we are not capable of leaving an inheritance to our children?" the elder one asked. Silence ensued.
"Parents who don't love their own children, this is the first time I have encountered this", Senthamarai said.
"I don't need a lecture on love from you". Lalitha responded.
They both continued to argue heatedly. Next morning the two siblings departed with their families to their respective places of residence. "Think about it", the elder one requested as he was leaving.
Rathnakumar too didn't like the idea of selling their property. But fully knowing that Lalitha would be unwavering he tried hedging his stance and deliberately said to her, "Maybe we should sell the property and give it to them". Although he didn't mean it he felt that these words might come in handy at a later time. But the need never arose. One month after this incident, Lalitha didn't get out of bed in the morning and Rathnakumar frantically tried to wake her up. He was shocked and perplexed by the fact that life had ebbed away from a body that had laid just a few paces away from him without him having an inkling.
The funeral rites were over. Both sons requested their father to come and stay with them. He was aware that staying at his younger son's house, especially with Senthamarai would humiliate him. Yes, he could perhaps stay with his older son, but staying alone in the same house with Periyanayaki while his son was away might result in mental distress and confusion. He was averse to it and decided to stay alone. He informed them diplomatically that he didn't like the idea of leaving his hometown and promised to come and stay with them if his health deteriorated.
Of late he dined at a 'Mess'. It was difficult for him to shuttle between his house and the mess for each meal. Sleeping alone at night was difficult too. Even before Lalitha's demise he had written and registered a will bequeathing all his wealth to his grandchildren.
Presently he was waiting for Selvin Rajadurai to go to the Bharatanatyam performance. Rajadurai parked his motorcycle at the gate and said "It's time to go" as he entered looking at his watch. He was excited about the prospect of seeing Vyjayanthimala. They both left for the auditorium. It was very spacious and could probably seat a thousand. Only two hundred were seated there today. Prior to the start of the programme Vyjayanthimala arrived and sat in the front row.
Remembering a scene from the movie Sangam in which she danced riotously atop a bed Selvin Rajadurai remarked "How old she has become". Memories of that dance from Sangam and of Vyjayanthimala's performances in several Tamil movies flooded Rathnakumar as well. At a particular angle, her profile reminded him of his Appatha. He couldn't say why and felt a bit shocked. He had not thought about Appatha for a very long time. Vyjayanthimala's profile resurrecting Appatha in his memory was a mystery to him.
At that moment he also realized that he was unaware of his own aging but only aware of others'. Appatha's memory kept coming back to him. During his childhood Appatha was the only person who had showed him love and affection. He had felt secure whenever he got to lay his head on her lap. He remembered that now.
Vyjayanthimala morphed into Appatha before his very eyes as she was getting on the stage. Appatha gave the felicitation speech. After the speech, as she got off the stage, Appatha who was Vyjayanthimala or Vyjayanthimala who was Appatha was surrounded by a few from the audience with whom she proceeded to have a conversation. He saw her up close. "See you all" Appatha took leave and walked towards her car.
Selvin Rajadurai was in a different frame of mind. Rathnakumar was in a totally unrelated one as well. As they headed home Rathnakumar told Selvin Rajadurai about his decision to cancel his Will, sell his property and hand over the proceeds to his sons. Upon Selvin Rajadurai's question as to why he had suddenly changed his mind Rathnakumar answered that Vyjayanthimala had changed his mind.
*
Note: Certain regions of Tamilnadu distinguish between paternal and maternal sides of the family using specific vocabulary. Appatha is a compound word from Appa (Father) and Aatha (Mother) literally meaning Father's Mother and hence Grandmother.
*
Tamil Original- அப்பத்தா by Sureshkumara Indrajith. Nakul Vāc's translation originally appeared in Sahitya Akademi's Indian Literature journal (Issue 317).
*
Brief note on Sureshkumara Indrajith's short fiction:
Sureshkumara Indrajith once described his authorial intent succinctly: "I try to write stories that are different, non-traditional and fresh, in a way that affords, as much as possible, sufficient space for the reader." Although these words could easily have been the manifesto of any Tamil modernist it is not easy to pigeonhole Sureshkumara into the usual categories used for classifying Modern Tamil short story writers. Certain recurrent qualities uniquely distinguish him and the stories called out below attempt to highlight these.
The short story 'Let Down Hair' reminds the reader of certain mythical constructs that are very natural to the Indian and specifically the Tamil subconscious (a specific instance from the Mahabharatha provides the mythical reference for this story). But even those who are not intimately familiar with Indian culture might recall the women of Vichy France who indulged in liaisons with German Soldiers and ended up being disgraced at the end of war when they were forced to march in public with shaved heads. Or they might even recall the tragic ending of the Euripidean Greek hero Hippolytus to whom his beloved goddess Artemis promises him a posterity where "Unyoked girls before their marriage / Will cut their hair for you". Such a recollection might highlight for them the importance a woman might attach to the idea of her hair being let down or bunched up and the intricate connotations such constructs have for her and the wider society of which she is an integral part, especially with respect to her 'agency'. For a woman's hair is not only an attribute for her beauty but also a potent weapon that excites the libido of men and threatens them with its overt sexuality. So, in a sense the hair is an uber-metaphor for all the variegated situations of Sureshkumara's stories in which for manifold reasons men and women are thrown in disarray when confronted with their own sexualities.
The story leverages the mythical undercurrents of the Tamil subconscious very subtly. Tamil culture has a tradition of emphasizing long braided hair as an attribute of beauty. As part of their upbringing girls are usually admonished for letting their hair down. Loss of control is deemed dangerous, throwing the very thing that was beautiful into disarray and rendering it into something terrible. It is no wonder then, that in such a milieu, a Tamil reader naturally recalls Bharathi's Panchali Sabatham (The Vow of Panchali) wherein Panchali lets her hair down and vows not to bunch it up until it gets drenched with Duryodhana's blood. Such a dramatic gesture and the attendant imagery of let down hair seems commensurate to her anger at her life thrown into disarray and the ensuing clan destruction that follows. From here the startled Tamil reader might traverse centuries and recall the great Tamil Epic Silappathikaram (The Tale of the Anklet, which proclaims magnificently that "even kings, if they break the law, shall have their necks wrung by Dharma") and its wrathful heroine Kannagi (whose statue he might even encounter in his evening stroll at his local beach) who let's down her hair and avenges the wrongful death of her husband by burning the city of Madurai. It is in the context of such a literary tradition that women like Panchali and Kannagi threaten him with their let down hair and their capacity to wreak havoc with righteous destruction. The anxiety of Sureshkumara's protagonist which might be puzzling for a Western reader comes pre-loaded with a traditional sub-context for an Indian one and is fairly straightforward for him.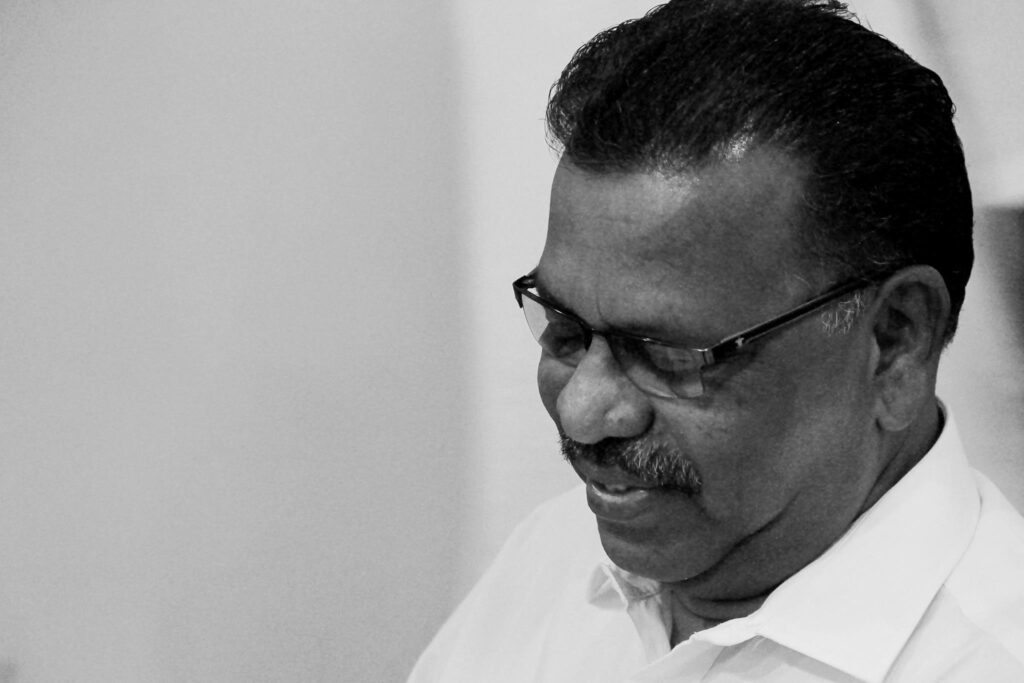 The detritus of shattered intellectual concerns washed ashore by the ebb and flow of petty day to day concerns is yet another important feature of Sureshkumara's stories. While, in some cases, this results in stories that are very self-aware of their overt intellectualizations, there are other instances where such concerns end up leading the reader through a maze of coincidences, accidents and ambiguities. Sureshkumara once remarked in an interview that some stories do get out of hand, exceeding the intentions of the moving hand of the writer, luring him into unchartered territory that he hadn't envisioned before. Sometimes the over enthusiasm of such 'volitional' texts results in a loss in conciseness which is the hallmark of most of Sureshkumara's stories (which usually do not extend beyond eight pages). But this over enthusiasm never devolves to melodrama. Instead, it is modulated into an ironic register that carries the writer and at times even the reader in its satiric upsurge. 'The Postmodernist's wife' is a great example of this.
Eluding all critical categorizations, the stories proceed with their deliberate wry tone, eschewing excessive emotion to wend their ways towards a sort of muddled wisdom amidst the confounding true/ false, dream/ reality, illusion / Truth dichotomies. One can sense these traits adumbrated in the story 'Appatha' (translated above) even though that story doesn't attempt to embody them overtly.
The cognitive world is perceived in Sureshkumara's stories after being refracted through the prism of mediated intelligence. Immediate experience by some weird magic or fault in perception emerges a bit off-kilter or skewed. Such refraction is aptly counterpointed by a neutral emotionless tone and a narrative that deliberately avoids melodrama. Niceties of style, poetic language and other literary gentrifications are deliberately set aside. In fact, they go even further and adopt the style of newspapers to narrate an incident that ends up as something more in which upto date biographies of the characters are revealed. The greatest challenge for a translator is avoiding the temptation to 'spice' it up, so to speak, and resort to clever phrasing in an attempt to relieve the neutrality of tone. Most of the stories relate entire biographies within the succinct space of just four to eight pages. For instance, the story "Plants and brilliant flowers of a new kind" narrates the biographies of four individuals in single paragraphs, each one spanning a page and a half. 'Transporting to another realm' a feature which occurs in many of the stories, is re-jigged in this one, using a romantic and affirming perspective (an unusual one for Sureshkumara) that transcends the story into an almost perfect metaphor. Even for an oeuvre that is as distinctive as Sureskumara this story stands out even more distinctly.
"Not a single story has evolved in the way I envisioned for it. Imagine water spilling to the floor, can you predict the course it will take? It has a mind of its own and seeks it own way in search for lower ground. Writing is similar, once you begin, no way to predict how it will evolve. Barring a few, most of my stories have no pre-determined endings." Sureshkumara Indrajith once remarked in an interview. But we as readers find that hard to believe. Like water finding its natural level on land, the intent of his writing seems to have sought out the perfect form in which it is expressed.
– Nakul Vāc