When 'Criterion' released the eclipse DVD series of Kobayashi's films, the title given was 'Against the system – Masaki Kobayashi'. The caption tells everything about him. A perfect tagline. Director Masaki Kobayashi's heavy traumatic experiences in the Japanese military regime, and the ramifications of its inhumane treatment towards its own soldiers fueled his rage, modified his perceptions about moral fortitude. He decided to refuse any kind of promotion and stayed as a private during the entire war. He was also captured and spent nearly a year in POW camp. His experiences of war, which he called as "the culmination of human evil", directly inspired his films and he evolved as a harsh critique of war, army and the Japanese people.
Kobayashi pulls no punches in the gruesome depiction of his subjects. According to him, not only war, but the army by itself strips the dignity of the individuals, and transforms them into heartless beasts. I remember watching his towering achievement, Human Condition – a nine and a half hour monument to human endurance, in a single night without any break. It was so depressing and emotionally more powerful delivered in an immaculate fashion. No other director in the cinema has equaled this raw exemplary portrayal of disgraceful episode in a nation's history yet tenaciously clinging to human endeavors. The intimate human drama taking a firm stance against authoritarianism renders the soul-searing indictments of war too. Amidst witnessing the hard hitting cruelty of estranged men, this anti-war epic also retains its high hopes of shedding light upon redemptive moments of grace. The nerve chilling scene in which hundreds of "half-dead" hungry Chinese prisoners gothicly parade towards the food cart is nothing less than an indelible horror. It was spine-tingling and haunted me for days. Kaji (the protagonist) forgets all his 'humane' implications, loses his self-righteousness and turns into a monster to impose discipline. He whips those weakened souls brutally and brawls hysterically contrary to what he was up against thus far. I will write about this movie in an elaborate manner in one of the upcoming issues.
During the early days of his career, Kobayashi himself was a rebellion against the studio system prevailed in Japan. He joined as an apprentice at Schochiku studios, where he was forced to direct mediocre scripts dealing with family romance and horribly awry comedies. His first break-through film, 'The Thick-walled Room', was shelved for four years by Shiro Kido – head of Schochiku studios, due to the controversial nature of the subject matter. Kido and Ofuna wanted to edit the film to dilute the overtly political work for fear of offending both Japanese authorities and American occupied forces. The movie aggressively condemns the savage scapegoating of B & C war-class criminals who were just following orders while their superiors were set free; the civilians paying for the sins of their leaders. Obviously, Kobayashi refused to cut the film. As a result, though it was completed in 1953, the movie had hit the screens only in 1956.
Though Kido was not happy about Kobayashi's inflexible behavior, he recognized his immense potential and offered him few other sentimental domestic dramas to direct. He made inappreciable films like Three Loves (1954), Somewhere under the broad sky (1954), Beautiful Days (1955) and The Spring (1956) before getting to make another landmark film (I'll buy you 1956). He almost threatened the studio that he would resign and fetched green light to direct 'The Human Condition' trilogy. Some directors who are now considered to be great, like Yasujiro Ozu, actually appease the studio model. They were obedient and never raised their voice to alter the poor circumstances and gain freedom in the creative process. But, Kobayashi is not Ozu or Oshima. The protagonists in his films are nothing but a self-reflection who risks everything to stand against hypocrisy. His films are more austere, a neo-realistic examination of rapprochement and oftentimes, there is a creative tension between plunging to capture the documentary sense of reality and the expressionist visuals deployed to offer incisive insight into the characters' psychological reality. Shakespearean dramatic conflicts are advocated by ostentatiously canted angles invoking a strong sense of clear-eyed vision. His unmistakable political orientation and masterful craftsmanship mark him as a definite forerunner of the New wave directors of Japanese cinema, including Kurosowa and Shohei Imamura.
Following his exit from the studio system during the mid 60's, Kobayashi formed a group known as 'The Club of Four Knights' to produce quality films. This group included directors like Kurosowa, Kon Ichikawa and Keisuke Kinochita. The result was prolific making sure that he could direct films without making any compromise. While directing Samurai Rebellion (1967), he decided to choose the ambience as a period drama to reflect on Japan's contemporary moral crisis. That is why, the feudal society of the past is also portrayed with the darkest colors. This approach is best utilized in one of his masterpieces, Harakiri (1962), where he choreographs the entire film using elaborate camera allusions. The punctuated track shots work in harmony to create a true piece of cinematic life. Having been so successful and fascinated with the 'samurai' theme, Kobayashi desired to enhance and explore it to the fullest extent possible. The output was dynamic, meditative and gripping. A daring take on samurai genre, Samurai Rebellion was far better than Harakiri on an aesthetic level, beautifully constructed and composed. The panning movements of the camera evoke the gradually building tension within the threatening spaces packed with social commentary. As Donald Richie points out, "the geometric patterns of traditional Japanese architecture are used to illustrate themes of social restraint". The script was unique, attention to exquisite detail is imperative but the true mastery of this film is how every element has been incredibly formulated in bringing out the extraordinary human resilience even at the times of extreme pressure.
Set place in a lowly populated village, it tells the story of Isaburo Sagahara (Toshiro Mifune), a soon-to-be-retired swordsman for a corrupt clan lord – Masakata Matsudaira (Tatsuo Matsumura), the daimyo of the Aisu clan. Isaburo is the most skilled swordsman in the land, whose only match in ability is his long-time friend Tatewaki Asano (Tatsuya Nakadai). They had never dueled with each other due to the concern for their families. In their quiet life, the clan ends up wrinkling the harmony as Isaburo's son Yogoro Sagahara (Go Kato), is forced to marry the clan lord's concubine, Lady Ichi (Yoko Tsukasa). The ridiculous order of the clan lord is nothing but a display of the cruel intentions of the authority to disgrace Isaburo and his family name. But to everyone's pleasant surprise, the marriage turns out to be a happy one and Ichi – Yogoro have their first child (Tomi). However, the interests of the clan household intervene in their family life once more.
As daimyo's heir dies of pneumonia, the clan lord demands Lady Ichi's immediate return to the castle. Having fallen deeply in love with Yogoro and having a baby daughter Tomi, this time Lady Ichi refuses to obey the wishes of the dominant class. And for Isaburo, after years of enforcing the rule of clan law, Ichi's 'disobedience' turns out to be a delayed awakening. Now, he is determined to rebel against the narrow-mindedness of the highest powers. Soon, Daimyo's men storm their house with the intentions of kidnapping Ichi and ordering Isaburo and Yogoro to commit seppuku. (Watch Harakiri, to know more about it) The fierce battle begins, Ichi kills herself and Isaburo loses his son. After mercilessly killing everyone, Isaburo tries to take Tomi to Edo, the supreme authority of the clan, to inform of the clan lord's unjust. In order to cross the border, Isaburo has to draw swords against his dearest friend, fellow samurai and border guard, Tatewaki.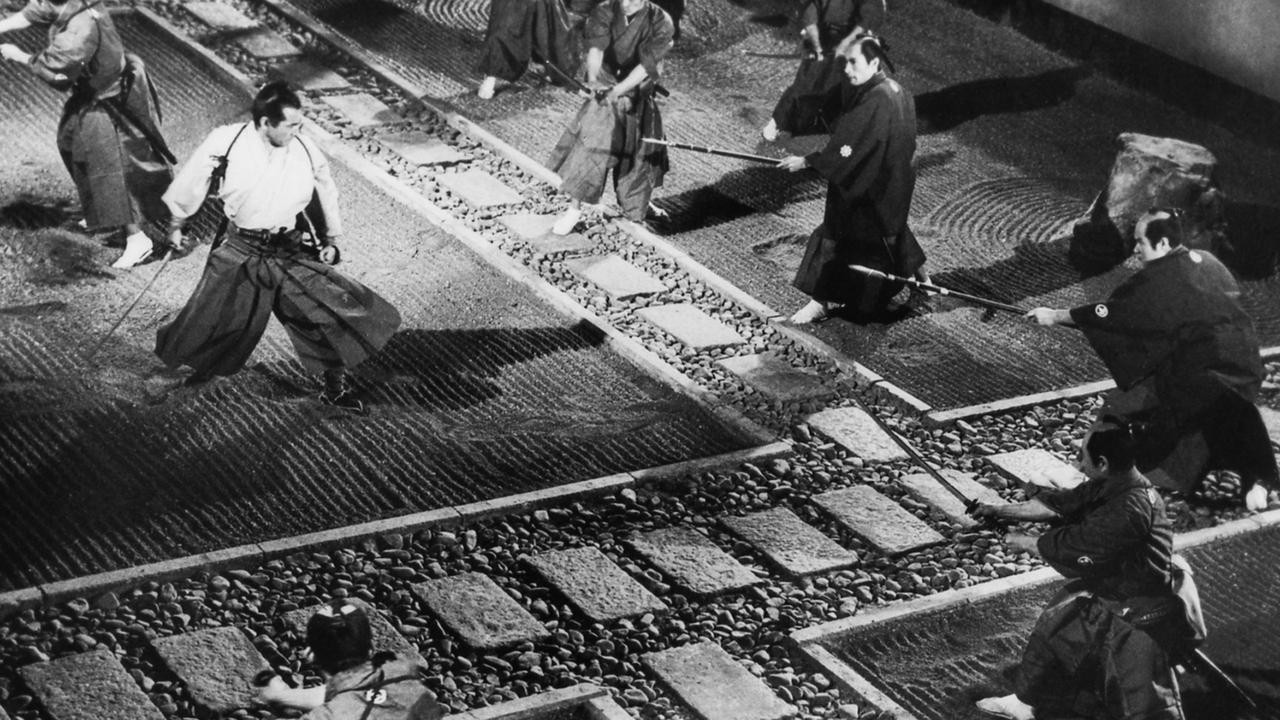 Kobayashi induces constrained framing to heighten the intensity and the on-going tension among the characters. It is evident that he is interested in telling a powerful story than just wavering over bloodier sword action. The intricately controlled space perpetuate solidarity effects lending a sense of timelessness. There are mind-blowing landscapes too, especially towards the film's end. The climatic confrontation's sole purpose is to make the spectators understand that they fight because they just have to blaming the unfair feudal system which made them blind partisans of elite powers so far. These men are bound to their duties. And the duty forces Tatewaki's hand to raise sword against his friend. Isaburo has revelated himself from the authoritative strings and realized that his eternal duty is to protect his family, whereas, Tatewaki is a man of interpersonal conflicts. Though he has resentment towards authority, his honor lies in sustaining the essence of loyalty by guarding the border. All these leading to the inevitable clash, the final confrontation never fails to excite us every time we watch it.
Kobayashi stated in a 1993 interview with Peter Grilli, "The fact that I was able to fully complete my films, with no regrets, is a significant factor in why, watching them today, they don't feel dated, they remain relevant." The difference between good film-making and great film-making could be witnessed when one watches Samurai Rebellion. It is a rare gem in cinema and strikes till today. The pacing is perfect and he never gives you a moment to breathe. Throughout the history of cinema, only a handful has emerged alike. To my shock, 'A Dream of Resistance' by Stephen Prince is the first book in English, released in 2017 – almost twenty years of his death, to explore Kobayashi's film career. If our intelligent critics had been really submissive to art, Kobayashi would have been celebrated in a broader light while he was still alive!
Citations :
http://sensesofcinema.com/2016/cteq/samurai-rebellion/
https://www.criterion.com/current/posts/1052-samurai-rebellion-kobayashi-s-rebellion
http://www.boloji.com/articles/13613/samurai-rebellion-1967
https://scroll.in/reel/810164/japanese-filmmaker-masaki-kobayashi-was-a-studio-rebel-with-a-cause
https://www.amazon.in/Dream-Resistance-Cinema-Kobayashi-Masaki/dp/0813592356/ref=tmm_hrd_swatch_0?_encoding=UTF8&qid=1536945615&sr=8-1