1
Tamils played a major role in the life of Gandhi, starting with the satyagraha in South Africa. Vincent Lawrence, working as his clerk, was one of the first residents with Gandhi at Durban. A Christian Tamil, he was from an 'untouchable' caste. The friction with Kasturba on account of Lawrence opened up Gandhi's mind to the issue of untouchability. The episode of Balasundaram made Gandhi turn his attention towards the plight of poor indentured Indians too. Thambi Naidoo, another Tamil, was one of his staunchest associates. The Tamil teenagers, Valliammal and Nagappan, died during the satyagraha and became a great source of inspiration. Gandhi's first magazine, the Indian Opinion, was initially published in four languages, Tamil being one of them. Gandhi learnt a bit of Tamil and even taught Tamil to the ashram children. In India, Gandhi received good support from Chennai for his South African cause. The Hindu and the Madras Standard gave him good coverage when he visited India in 1896 to campaign for the South African Indian cause. G.A.Natesan was one of his earliest publishers and anthologists. Rajagopalachari became his close associate, friend, his son's father-in-law and his conscience-keeper. Many Tamils were part of his ashrams in South Africa and India. Gandhi made many key decisions when he was in Tamil Nadu. He visited Tamil Nadu 20 times; the first visit was in 1896 and the last in 1946. After he gained renown as the Mahatma, he drew huge crowds in Tamil Nadu wherever he went. He was also shown black flags to protect his movement against untouchability. The sanatanist Tamils found him to be too progressive and the Dravidian movement blamed him for being too conservative.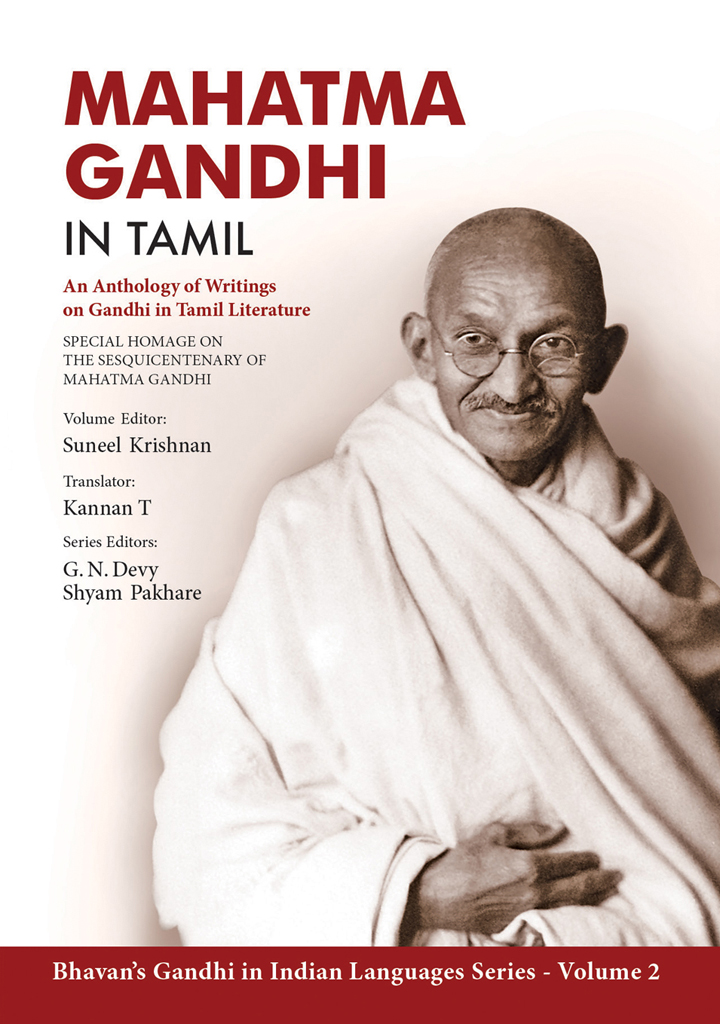 It is, therefore, no wonder that there are extensive writings about Gandhi and the Gandhian movement in Tamil, starting with Subramanya Bharathi, the preeminent Tamil poet and the pioneering prose writer of the twentieth century. Bharathi, battling poverty and the British rule, while in exile in the French territory of Pondicherry, has written about Gandhi's movement, right from his days in South Africa, in his journals such as Vijaya. Even then, he called Gandhi a 'Mahaan', a precursor to his later title, the Mahatma.
This anthology was put together in Tamil by Dr.Suneel Krishnan, himself a promising young writer in Tamil. In a way, this anthology was a result of his many years of work in curating the Tamil website, Gandhi Today, where writings of Gandhi and about Gandhi, were collected and translated by him and other contributors. In this anthology, Suneel Krishnan has collated works from various writers, belonging to different time periods and ideologies, and straddling across different genres in fiction, non-fiction and poetry. Many of them are adulatory but there are some critical pieces too.
2
Gandhi has featured in the writings of some of the greatest writers of modern Tamil literature. Short stories or extracts from novels of Pudhumaipithan, Ashokamitran, T.Janakiraman and Jeyamohan, towering figures in the world of Tamil fiction, are featured here. As for the poets, Bharathi, Bharathidasan and Kannadasan are among the prominent poets who have written traditional poems (which followed traditional prosody, verse structures and rhyme patterns) on Gandhi. C.S.Chellappa, Gnanakoothan, Devadevan, Manushyaputhiran and Sirpi are significant Tamil poets whose modern poems (which were typically in the form of free verse) find a place in this anthology. Poems from promising young poets like Isai and Sabarinathan are also included.
In the poems, the focus of the traditional poems has been on non-violence and the endearing personality of Gandhi, while many of the modern poems focus on the Gandhi who is difficult to follow or has been tragically ignored and killed.
Bharathi did not live to see the outcome of the non-cooperation movement of Gandhi in India, as he died young in 1921. But he predicted in his poetry,
'The most beneficial non-cooperation –

Through this path what will transpire

In India, shall inspire the world to abjure

Acts of hostility, and prosper through morality.'
Bharathi's first line of this poem, 'Long live, my father', is the line quoted most often by other writers in this anthology.
Namakkal Kavignar's lines on non-violence defined it wonderfully well, and became the anthem of the Gandhian movement in Tamil Nadu.
'With no blade, and no blood,

Comes a battle! We plead,

Join us, those who hold fast

Truth shall forever last.'
Raya Chokalingam, in whose house Gandhi had once stayed, wrote an unusual poem with two counter voices – one praising Gandhi and the other raising doubts about him. Says the doubter:
'In praising this lord, what is there to gain!

Do you not know, world by nature is vain!

My friend, in singing his name, there'll be pain!'
The young girl of the poem goes on to say,
Go, silly girl! how will we bear khaddar?

Flowers tire us! It's an illusion, I gather!

Hey, my friend! If our waists break, who'll bother?
The rationalist poet Bharathidasan, wrote, "The sage is dead but is all over born/ He gave the world all that can be given." The premier lyricist of Tamil movies, Kannadasan, termed Gandhi Centenary as 'Shanti Centenary'. Ki.Va.Jagannathan, calls Gandhi as 'The sage who tamed his mind, can his worth be sized?' and 'Out of molten wax, iron he could form.'
Gnanakoothan writes a satirical poem to bring out the hypocrisy of an orator using Bharathi's lines on Gandhi. Isai writes a playful, delicious, short poem titled Gandhism on the challenge of conquering one's senses.
'With a tantalising smell

It makes one drool…

Conquering the world can wait,

First

Conquer this urad vada. '
Progressing along a similar theme, Shankar Ramasubramanian, says, 'It is a mere kitchen knife/ But when I hold it/ It invites me for/ Medieval/ Battles and heroics;' Another young poet, Sabarinathan, ponders about the 'children not blessed by Gandhi'. The grandfather in the poem laments about how he narrowly missed seeing Gandhi at the railway station, and 'Thus have everyone joined/ To ruin the nation.'
Devadevan portrays two scenes – first a blissful but melancholic picture of Buddha, Christ and Gandhi together and then a bleak picture with them in a helpless state. Kumari S.Neelakandan and C.S. Chellappa lament the death of the Mahatma and the ritualistic remembrance of him, forgetting the real Mahatma. "Your woeful murder is a symbol/ Of berserk animal instinct./ Your woeful murder/ Raises the fear/ That from this world/ Virtue will wither," fears Chellapa. Chellappa, as noted by Venkat Swaminathan in a later essay, was a Gandhian who went to prison, and lived by the Gandhian ideals through his life. When he visited Delhi, Birla Mandir, where Gandhi was shot down, was the only place he wanted to see.
Ramesh Predan writes about the killing of Godse:
'You killed him who killed me

Now, he and I – are we not on the same plane?'
Ramesh Predan's Gandhi further says, 'Your killing him/ Killed me yet again.'
Manushyaputhiran talks about a Gandhi who refuses to be pushed out; who still demands goat's milk instead of coke; who doesn't understand 'it's because of this stubbornness/ That he already once/ Gave his life'; who eats meat to protest, 'when he saw people flayed/ For having eaten meat'; who is 'biding his time'; and who is asking for 'a mechanic to repair/ This faulty charka'.
3
The short stories in this collection are noteworthy both for their literary merit and the Gandhian flavour they possess. Gandhi appears briefly in person or is the central theme in these short stories (as in the novels). Some of them should make it to any anthology of short stories purely on the strength of their literary value.
Pudhumaipithan's The New Nandan is one such short story. It seems at first to be a simple, early short story about social reformation. On deeper reading, it reveals many layers weaved in intricately. In today's charged social atmosphere when Gandhi is pitted against Periyar/Ambedkar, this story seems as relevant today as it must have been in 1934 when it was written. It accentuates the point where they converge despite all the differences.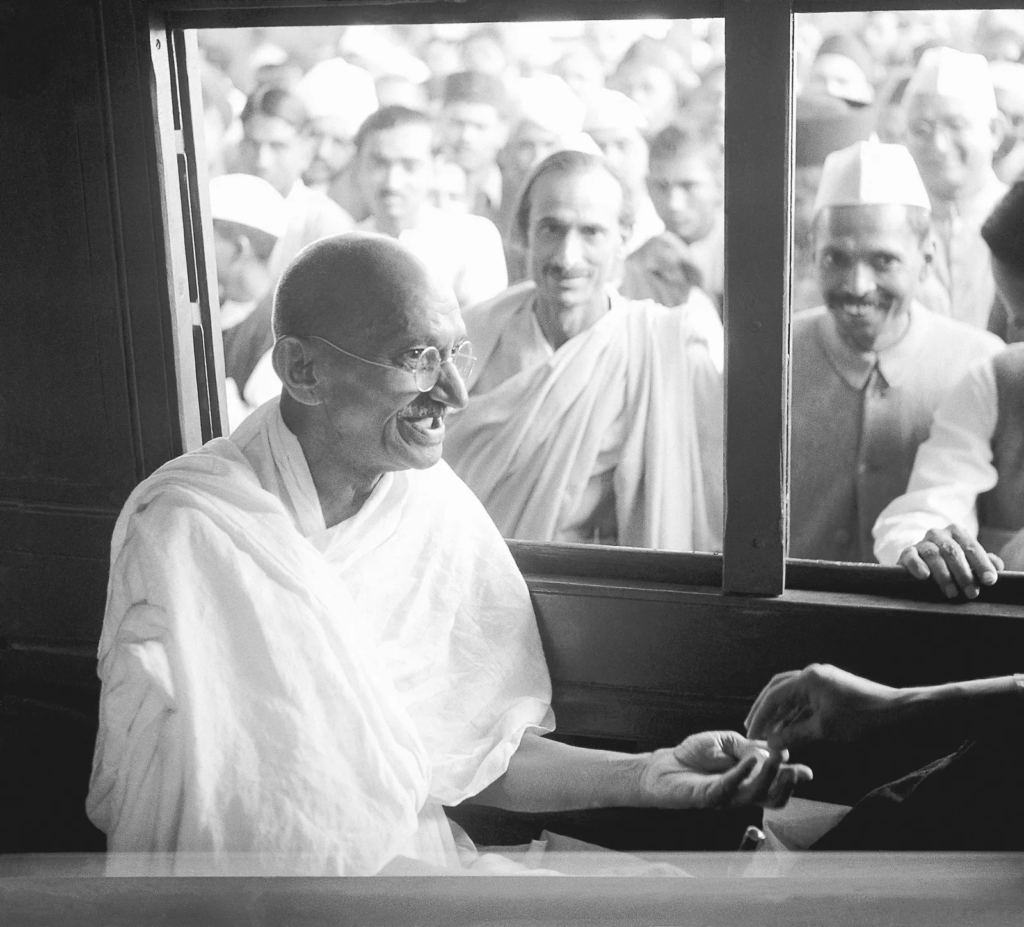 A strong authorial voice is heard throughout the story. Early in the story, the author says, "However, after Nandan took leave of the Pariahs' colony, the Pariahs' colony did not find salvation. It remained the old Pariahs' colony. With the old toddy shop." Individual salvation had not led to the liberation of the society. They were in a deep slumber, oblivious to the developments outside, even to the onset of the British rule.
As a token of the British rule, the municipal lights arrive at the village. But they also remain at a distance from the colony to maintain untouchability. Nandan of the old never felt he was enslaved by his landlord. So is Karuppan. He continues to serve his master, who had blinded him when he was young for drinking water from the common well. He didn't drink the water as an act of defiance but merely out of ignorance. The story also portrays the transformation of land-owning upper castes into British Indian bureaucrats. Their next generation, inspired by Gandhi, shun the bureaucracy and their own social privileges. Ramanathan, the son of the old landlord and sub-registrar gives up his potential future as a Collector to take part in Salt Satyagraha and the Harijan movement. He even goes to jail.
Though Karuppan is faithful to his master, he yields to the temptation of making his son an English-speaking master. He sends his son with John 'Iyer', a Christian evangelist. John Iyer is originally from a land-owning Velala caste, and though changed his religion, he had not given up his caste privilege. When Karuppan's son, Pavaadai, re-christened as Daniel, proposes to marry John Iyer's daughter, he abuses him by his caste name and throws him out. Daniel has a brief stint of training to be a Catholic priest but is disillusioned there as well and eventually joins the Self-respect movement of Periyar. He becomes Comrade Narasingam.
His father Karuppan, who wanted him to become a master, refuses to let the master's Gandhian son, Ramanathan, marry his daughter, when he offers to. His wish to see his children progress is suppressed by his caste conditioning. Comrade Narasingam cannot also break this conditioning.
Ramanathan invites Gandhi, who is on a tour to Tamil Nadu on a Harijan yatra, to visit his village. Both his sanatanist father and the Periyarist Narasingam are keenly awaiting his arrival to debate with him and win.
Ramanathan and Narasingan arrive at the same truth through two different paths. They look at the same light in different ways. Finally, the author might be implying that Karuppan also might have seen the same light in another way. In truth, this is a light seen in three different ways by all three of them.
Pudumai Pithan belonged to the Manikodi era of Tamil short stories in the 1930s, when the magazine Manikodi became the platform from which the giant leaps were made in modern Tamil short story. Pudumai Pithan is widely considered to be the preeminent among the Manikodi writers, and possibly, those who followed them as well. The next author in the anthology, B.S.Ramaiah was a pillar of the Manikodi era. Like Chellappa, he too was a devoted Gandhian who went to prison during Salt Satyagraha. His short story, 'A grain of rice', has as its protagonist, Kumudham, who as a young girl gave away her jewels to Gandhi in exchange for his signature and made a promise to him never to wear jewels. She keeps her vow even after she grows up. The story is about the challenges posed by her vow and how she surmounts them through her unwavering adherence to the Gandhian values. S.Ambujammal, in an essay, which comes later in the anthology, also talks about such an incident, when Gandhi asks for jewels from a young girl while staying at her father Srinivasa Iyengar's house. In the book, 'This was Bapu', R.K.Prabhu narrates an anecdote involving Dr.Nirupama of Udupi, who as a nine-year old girl gave away her ornaments to Gandhi. Gandhi further extracted a promise from her 'that she would not wear any ornaments on her person in future'. She kept her promise till the end. Gandhi was a tireless beggar and a ruthless bandit when it came to lovingly cajoling young girls to give away their jewels for social causes. B.S.Ramaiah explores the untold practical difficulties that the Ambujammals and Nirupamas would have faced in real life through the fictional travails of Kumudham, 'a grain of rice stuck in the fingers of time.' She further elucidates that her husband and others are from "the caste created and left behind by the whiteman. I belong to the new Bharat caste that the Mahatma started to make. The two are struggling to commingle in the first blending." Thankfully for her, she had forged her little son, Babu, in the mould of the new caste.
The next story, 'Within and Without', by R.Choodamani, captures the progress made by three young men who were fired by the Gandhian spirit during their college days in the 1940s, when they met again in the 1960s. Choodamani shows for a major part of the story how Muthu and Ramanan, who meet first at a restaurant, have clearly lost the Gandhian spirit in pursuit of material goals even as they have made a grand external show of the regard they profess for Gandhi. When they go to meet the third friend Gopi, they see him leading a poor life but, in a moving ending to the story, realize he has kept his idealism intact. The story metaphorically presents India in the first decades after the death of Gandhi and the glimmer of hope that remained yet.
Ashokamitran's short story, Gandhi, is a simple story narrated in an intricate and complex structure. The first-person narrator of the story is pondering over his strained relationship with a friend, who has been spreading lies about him. The unnamed friend is introduced as someone who could weep at a simple everyday sight in a natural setting, relating it to the sorrow of the human race. They have a fallout and he wonders 'if this rancour arose between him and his friend because of Gandhi.' The story takes a dialectical approach to understanding Gandhi. The narrator looks at Gandhi as 'an extraordinary being who had impossible beliefs and expectations.' His friend launches a vitriolic diatribe against Gandhi. Juxtaposed against the dialogue on Gandhi is the allegorical tale of the friends and the intense personal exploration of the narrator based on his mundane experiences at the eatery.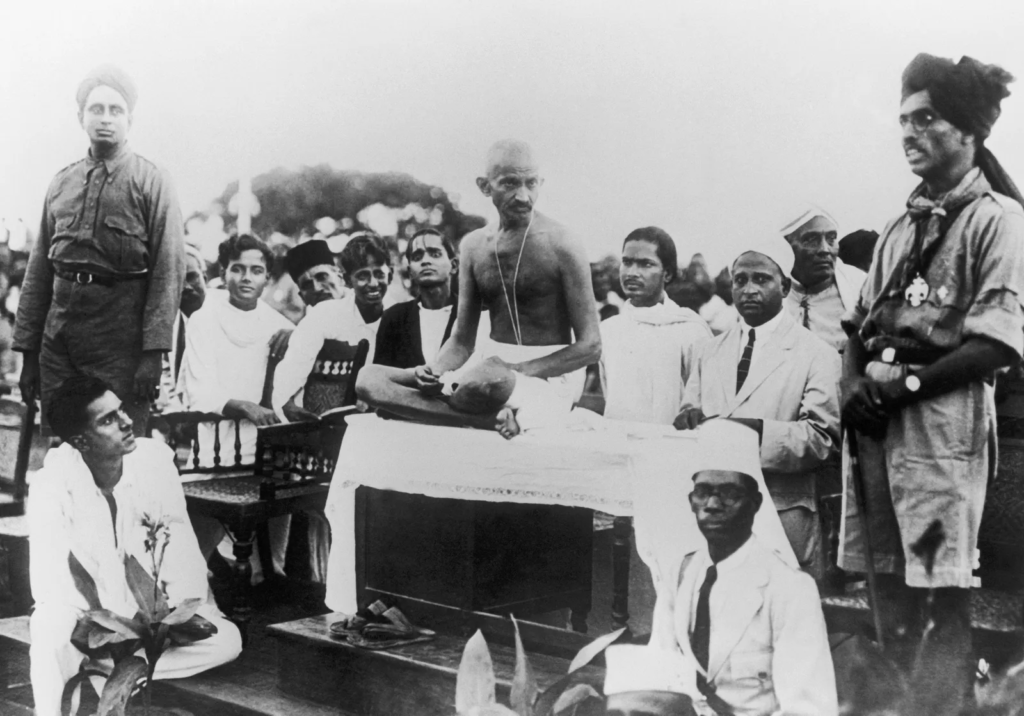 Another remarkable short story is 'Water and Fire' by Jeyamohan. He is a prolific writer who is at ease while creating modern classics as well as reimagining ancient classics like Mahabharatha and Chilapathikaram. He has written extensively on Gandhi and should be credited with kindling a new wave of interest in Gandhi among many youngsters. 'Water and Fire' is a story directly involving Gandhi, set during his years at the Satyagraha Ashram at Sabarmati. Gandhi falls seriously ill and he is ready to face death. A Bairagi – an ascetic, visits him and offers to treat him. He terms his method as the way of fire; he would cure through mantras on fire and a diet of food items favoured by fire. He rouses Gandhi's desire to live and to desserve the starving millions. But when he returns the next day he sees Gandhi doing the exact opposite of what he intended to do. "My way is the way of water," says Gandhi. This is another allegorical story which can be interpreted to mean how Gandhi chose non-violence over violence, and compassion over aggression.
In Suneel Krishnan's short story, 'Crescendo', Gandhi is led to heaven after his death. But he refuses to go to heaven, where people lived in luxury and joy, and insists on being taken to hell, where people are suffering. "I do not want such a degenerate heaven. I did not live to reach heaven. Further there is nothing for me to do there. All these years when I strained myself, was it to live a concealed and unrestrained life?" he asks. This story reflects what Gandhi said to Manu Gandhi in June 1947, "People now ask me to retire to Kashi or go to the Himalayas. I laugh and tell them that the Himalayas of my penance are where there is misery to be alleviated, oppression to be relieved."
In S.Ramakrishnan's 'I shall meet Gandhi', a young woman in an unhappy marriage runs away to Gandhi's ashram at Sevagram. She finds peace there but her husband comes there to forcibly take her back. Gandhi is unable to intervene. Later she visits her grown up son and his wife in London. She visits places visited by Gandhi. Her son discovers Gandhi through his mother's story, and he undertakes a trip to Sevagram. His Jewish wife helps him interpret Gandhi.
C.Saravanakarthikeyan's 'The Fourth Bullet' is a racy story about a young journalist who travels to Delhi based on a lead that there was a fourth bullet shot during Gandhi's assassination. Gandhi's last day and his assassination is reconstructed through her journey and interviews, and by interposing the actual events of the last day between her interviews.
Nakul Vasan, in his 'Ecce Homo', traces the life of a young Mohandas studying to become a barrister in London.
4
Devibharathi's novella, 'Farewell, Mahatma', recalls the journey of Tolstoy from his home at Yasnaya Polyana to Astapovo, where he died at the railway station. Gandhi, in this novella, is exasperated by the riots after partition and the changes in his associates. He goes out seeking his own Astapovo. He mingles in the crowd consisting of many people dressed as the Mahatma. Yet he stands out because he is the only one who buys a ticket and is detected by a station master. He convinces him to return to Delhi. Devibharathi portrays the immediate decadence of the Indian society after independence and the despondence that befalls Gandhi. But Gandhi's struggles are all inside his mind. Unlike Tolstoy, he doesn't walk away from his life and troubles. He stays to fight. He presented his death as a message to our lives.
Each chapter from the novels chosen in this anthology reads like an independent short story featuring Gandhi and brings out important facets of Gandhi.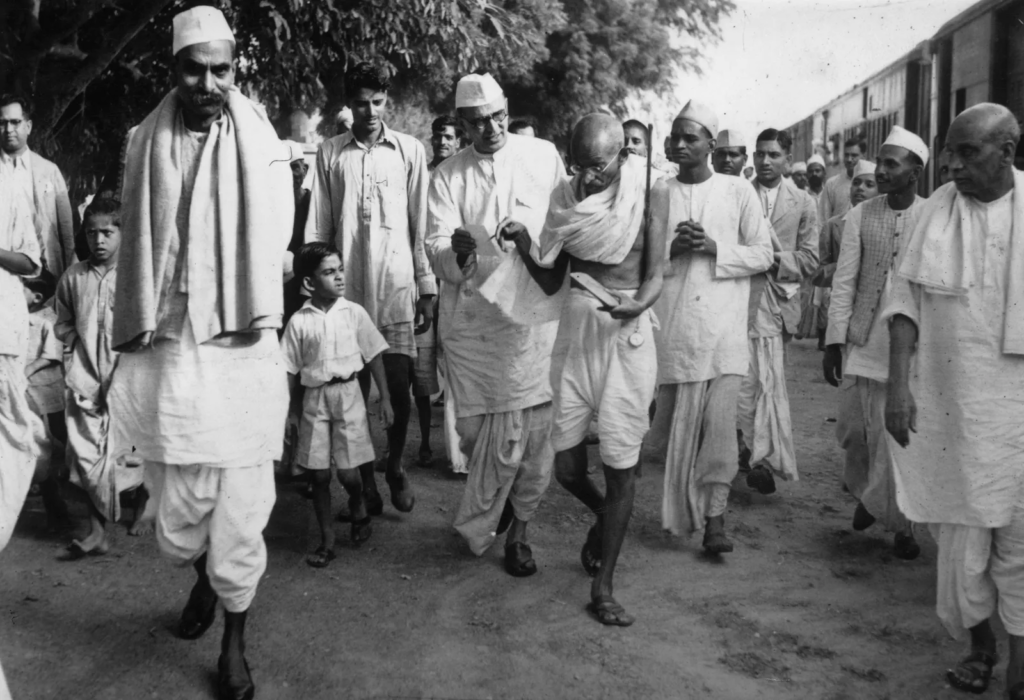 Thi.Janakiraman and Ashokamitran have written about the reactions of the protagonists of their respective novels, The Thorn of Lust and Eighteenth Parallel, to the news of Gandhi's assassination. In their contrasting styles, they capture the sense of extreme desolation felt by the Tamil youth at that time. The palpable pain of losing the father of the nation is recorded by others in the Tributes to Gandhi included in this work. It is best encapsulated by the reaction of Periyar E.V.Ramasamy, often a harsh critic of Gandhi, who wanted to rename India as Gandhi Desam or Gandhistan, and the Hindu religion as the Gandhi religion or Gandhianism.
In the chapter from the novel Twenty Years, M.S.Kalyanasundaram etches moving portrayals of simple people inspired by Gandhi to render remarkable service in their everyday life and make joyous sacrifices when called for.
'The Skies are Seen on the Earth' by N. Chidambara Subramanian is another novel that epitomizes the Gandhian spirit of that era. The scholarly protagonist of the novel, who gives up prospects of a promising career, gets an opportunity to spend time with Gandhi. The chosen chapter depicts his encounter with Gandhi and his associates. It gives a taste of the endless conversations that Gandhi had with the converts and critics alike on non-violence and truth.
The chapter 'The Thin yarn' from Jeyamohan's novel, 'The voice of the trailing shadow', is a complete short story by itself. It reimagines a meeting said to have occurred between Gandhi and Ayyankali, the renowned Dalit leader of Kerala, in 1922. Gandhi is shown to have won over Ayyankali to the path of non-violence but is himself beset by self-doubts.
In the novel 'August 15', Kumari S. Neelakantan narrates the encounter of M.S.Subbulakshmi with Gandhi. The novel is a fictionalised account of the conversations with V. Kalyanam, who was an aide to Gandhi in his last days. This chapter is also based on real events as can be seen in the essay, 'Her Hymn', by Samanth Subramanian in Live Mint [ 29 Jan 2009].
C. Saravanakarthikeyan [Before the Apple] endeavors to tread on the complex and controversial phase of Gandhi's life, when he undertook brahmacharya experiments during the strenuous Noakhali yatra.
In Maalan's 'Jana Gana Mana', Sardar Patel and a police officer try in vain to convince Gandhi to accept security.
In P.A.Krishnan's 'The Muddy River', a ninety-three year old father visits his son in New Delhi and has nostalgic conversations with him on Gandhi.
In the play 'The Flame of Sacrifice' by M.P. Gurusamy, Gandhi and Kasturba clash over clearing the chamberpot of an untouchable associate. The stern resistance shown by Kasturba sows the seeds of satyagraha in Gandhi.
Subramaniya Siva, a contemporary of Bharathi and V.O.Chidambaram, imagines a meeting between Balgangadhar Tilak on his deathbed and Gandhi, when Tilak hands over the baton of leadership to Gandhi.
There is a section on Children's Literature, where some delectable songs on Gandhi for children by Suddhananda Bharathi and Azha Valliappa are chosen. Kothamangalam Subbu tells the unusual tale of the meeting between Tan Yun-Shan, a Chinese scholar, and Gandhi, and the exchange of letters between Gandhi and the Dalai Lama, transcending languages. Thi.Ja.Ra gives a short history of the Salt Satyagraha.
5
The essays in this anthology have been classified into six sections: argumentative essays, expository essays, slices from Gandhi's life, reviews of movies on Gandhi, reminiscences about Gandhi and tributes.
The essays are representative of the various schools of thought in Tamil Nadu, some of which I am seeking to underline in this introduction.
Subramaniya Bharathi's writings can be seen to echo the voice of the generation of Tamils who fought alongside Tilak before the advent of Gandhi in India. In the two essays produced here, he is welcoming, optimistic and also cautious. "I do not endorse the principle that we cannot get Swaraj till the time there are inequities in our social life. But, 'we reap what we sow.' As long as there is mutual injustice amongst us, there won't be peace in the nation. We have to suffer in many ways," he wrote when Gandhi said they could attain Swaraj in nine months but 'Unless the Hindus remove the sin of regarding some castes as untouchables, Swaraj will not come in one year; not in a hundred years.'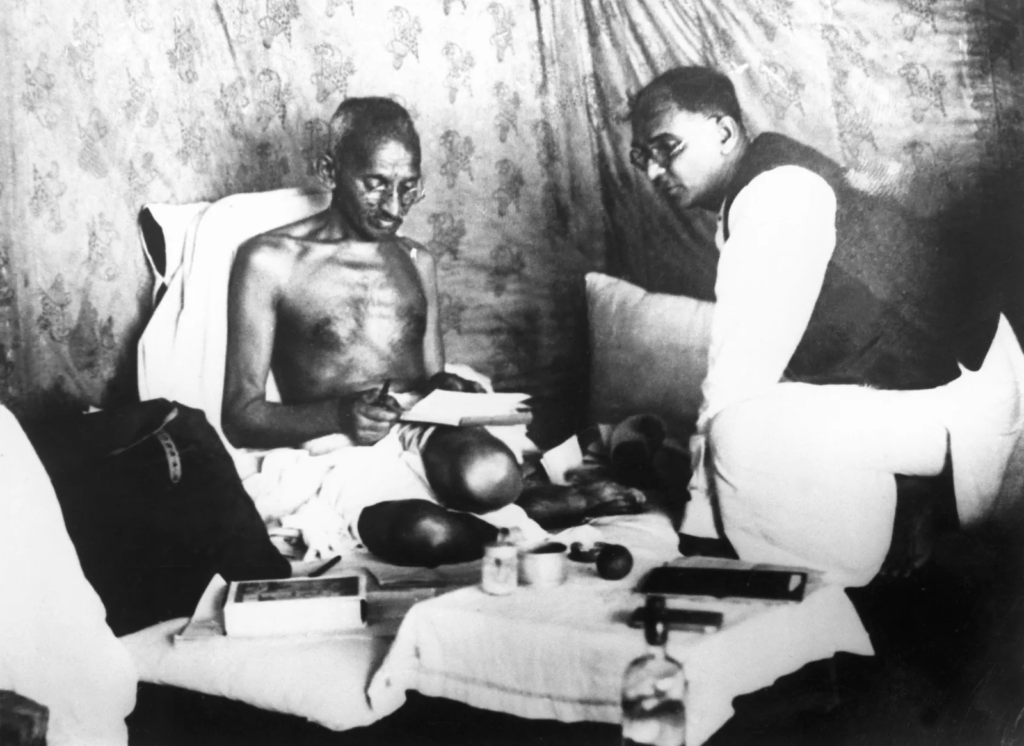 In another essay, Bharathi evaluates the eleven vows of Gandhi. While he accepts most of them, he is caustic about two.
"If the rich take up control of the palate and brahmacharya, it is good for them. This advice is not needed for the poor. Their palates are already tied. Gandhi hasn't prescribed brahmacharya as a dharma for everyone. If it works, then the nation will soon be bereft of people.
"Gandhi has talked about eleven vows. I will give the twelfth vow. It is: spare no efforts to seek wealth; achieve a high standing in the world; The entire nation should undertake this twelfth vow."
Periyar and Annadurai approach Gandhi through the eyes of the Dravidian movement. Periyar alternated between extreme adulation and strident criticism of Gandhi. The essay by Thirumavelan tries to explain this dichotomy through the words of Periyar: "The Gandhiji who lived, was the Aryan Gandhiji, the Gandhiji created by Aryans, the Gandhiji of our enemies. But, the dead Gandhiji is our Gandhiji, the assassinated Gandhiji who was killed by the Aryans fearing the demise of Aryanism. Therefore, I declare that, more than others, we have the right to grieve his death." Annadurai saw Gandhi as a global elder. He said, unlike other independence movements in history, Gandhi had to fight for freedom as well as a new social order.
Piramil, a major poet who was born in Srilanka and later migrated to Tamil Nadu, writes about the early attempts at Satyagraha in Srilanka which were aborted after a few failures. He says a practitioner of ahimsa has to be unflinching in the face of dire circumstances. "An ahimsa warrior stands forever facing death. Death is neither civilised nor uncivilised. Real ahimsa lies in not even abusing those who cause death and pain."
Kovai Gnani, a veteran leftist thinker, presents a detailed critique of Gandhi from a Marxist perspective. He points out the defects of Gandhism as seen by Marxists as well as the shortcomings of the Marxist approach of assessing Gandhi. He posits that Gandhism cannot be revived but Marxism needs to learn from Gandhism.
Sundara Ramasamy, an important voice in modern Tamil literature, calls for a reassessment of Gandhi without seeing him through the prism of any ideology. He is critical of Gandhi's ideas on brahmacharya, relationship of vegetarian food to spirituality and trusteeship but thinks anyone with a real concern about the contemporary issues of life would take a serious interest in Gandhi.
Jeyamohan wants us to look at Gandhi, not as a Mahatma, but as a pragmatic political thinker. He analyzes Gandhi's reasons for promoting Hindi as the link language for his conception of a decentralized India, and conjectures that he would have opposed Hindi as the official language of the centralized India that has transpired now. He says, "Gandhi's gram swaraj was, unlike what Nehru thought of it, not a retrograde dea. There is a map in it for a postmodern society."
Prem presents a post-modern portrayal of Gandhi. He feels the seeming simplicity of Gandhism masks its complex internal workings. "In the postcolonial, postmodern, ecological, feminist political arena, the metaphorical understanding advanced by the spiritual politics of Gandhi is considered to be most meaningful," writes Prem. He establishes why Gandhi is relevant and important for the green politics emerging today. He also identifies the harmonious way of community living as an important aspect of Gandhism that needs to be studied.
A. Marx assesses Gandhi through the reactions of the sanatanists in Tamil Nadu. He asserts that the sanatanists and the Hindutvites are the foremost foes of Gandhi. "Though he spoke highly of Hinduism and varnashrama, on the other side he kept deconstructing its fundamentals," writes A.Marx. He also elucidates Gandhi's progressive views on caste and women through his support for widow remarriage, inter-caste marriages, abolishing the Devadasi system and his opposition to child marriage.
Natbas tries to understand the circumstances that led Gandhi to undertake the brahmacharya experiments with Manu in Noakhali. He concludes, 'by forcing him to purify himself in a great fire, it was the moment when the pettiness of the common people reared its head and raged, the moment of fall for India.'
Aravindan Kannaiyan counters the criticism and slanders on Gandhi that he hobnobbed with the rich and stayed at palaces. He cites instances of his stay in the Bhangi Colony in New Delhi, the dilapidated mansion of Hydari Manzil at Kolkata, ordinary quarters in the poor areas of East-end in England, and a hut in Karadi, a village near Dandi. More importantly he highlights the impact he made from wherever he stayed.
The young Gandhian writer, V.Vishnu, tries to understand why there are so many who hate Gandhi.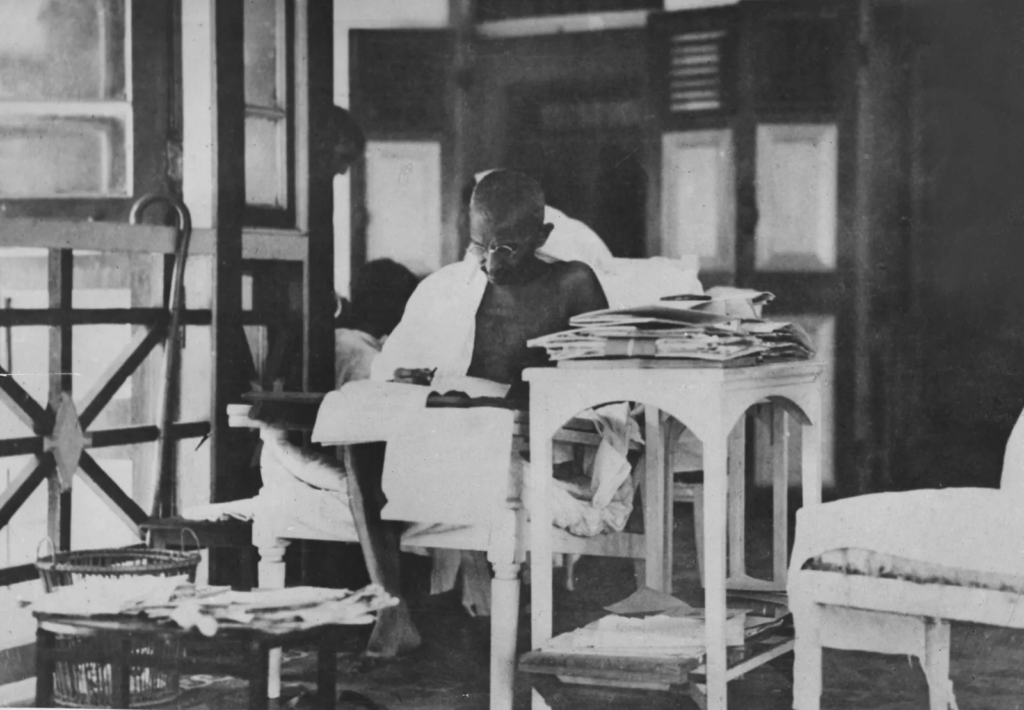 Samas, a prominent Tamil journalist, recounts the tale of Champaran Satyagraha. He says, 'It was not only the first satyagraha movement conducted by Gandhi after he returned to India from South Africa in 1915, but also an eternal model for a true satyagraha.'
Balasubramanian Ponraj terms Gandhi's death as a more marvellous message than his life.
Aasai calls Gandhi India's wi-fi, as he linked the whole of India to his experiments.
Sarvotaman proposes that Gandhi attempted to make a man outside the binary system of capitalism and communism. He considers Gandhi's most important domain today to be alternative economics because nobody else has said what he said.
'Raattai' Ragunathan, a knowledgeable and persuasive Gandhian voice on social media, writes about Gandhi's real attitude towards caste and untouchability. He writes about how he risked the closure of his ashram at Kochrab for accommodating Dalits there. He also mentions the admission of the family of Dhudhabhai, belonging to a scheduled caste. Gandhi and Kasturba adopted their infant daughter, Lakshmi. Lakshmi was later married off to a Tamil Brahmin. He further writes about how Gandhi stopped conducting same-caste marriages in his ashrams from 1927 onwards.
Thiru.Vi.Ka., a Tamil scholar and a participant in the independence movement, delves on incidents in Gandhi's life where the applicatication of ahimsa was contested by friends and critics. He absolves Gandhi on some and finds some of them doubtful. "Motive has to be placed higher than external action. It is not possible for anyone to perform anything that is acceptable to everyone," he concludes.
V.Swaminatha Sarma draws comparison between Gandhi and Swami Vivekanda, seeing both of them as two significant forces which gave rise to two movements. Na.Parthasarathy, a Sahitya Academy Award winner, considers Gandhi to be the only person in recent times who left behind an original philosophy and true ideological capital. Akilan, a Jnanpith Awardee, believes that Gandhi's 'unwavering faith in God, his attempts to realize God and the deep devotion he showed to God gave him such a magnificent power,' and made him the father of the nation.
Ma.Po.Sivagnanam, another Tamil scholar and an active contributor to the independence struggle and other social movements, traces the history of the demand for prohibition of alcohol becoming a part of the independence struggle. He deduces that only after the British rule, alcohol became a source of revenue for the government. Gandhi refused to include suspension of the picketing of liquor shops as part of the Gandhi-Irwin pact.
A.K.Perumal, a respected folklorist, takes up folk songs on Gandhi as the subject for his essay. Folk songs on Gandhi had been composed in Tamil from the time he arrived in India. The author also narrates an interesting incident when a highly educated freedom fighter asked Gandhi, "Why shouldn't you give a press release formally proclaiming yourself to be an incarnation of God?" Gandhi told him with a smile to shut up and sit quietly.
In an essay written by me, I explore the relationship between the Tamil classic, Thirukkural, and Gandhi.
Paavannan, an acclaimed writer and translator, gives an account of the strategies and meticulous planning that went into the Salt Satyagraha led by Gandhi towards Dandi and Rajaji towards Vedaranyam. He compares it with the contemporary protests where damage to property has become the norm.
Suneel Krishnan reviews the personal biography of Gandhi by Milie Polak: Gandhi, The Man. He considers it to be one of the most important books on Gandhi. Milie Polak relates her personal experiences with Gandhi in this book. 'They discuss about pregnancy, sex education, man vs. wild, religious conversion, the condition of women in the East and the West, spirituality and many more.' Suneel identifies some of the key moments in the book and avers there is enough material in it to give rise to many works of literature.
Kalki, one of the most popular writers in Tamil, portrays the events that led to Gandhi deciding to wear only his loincloth.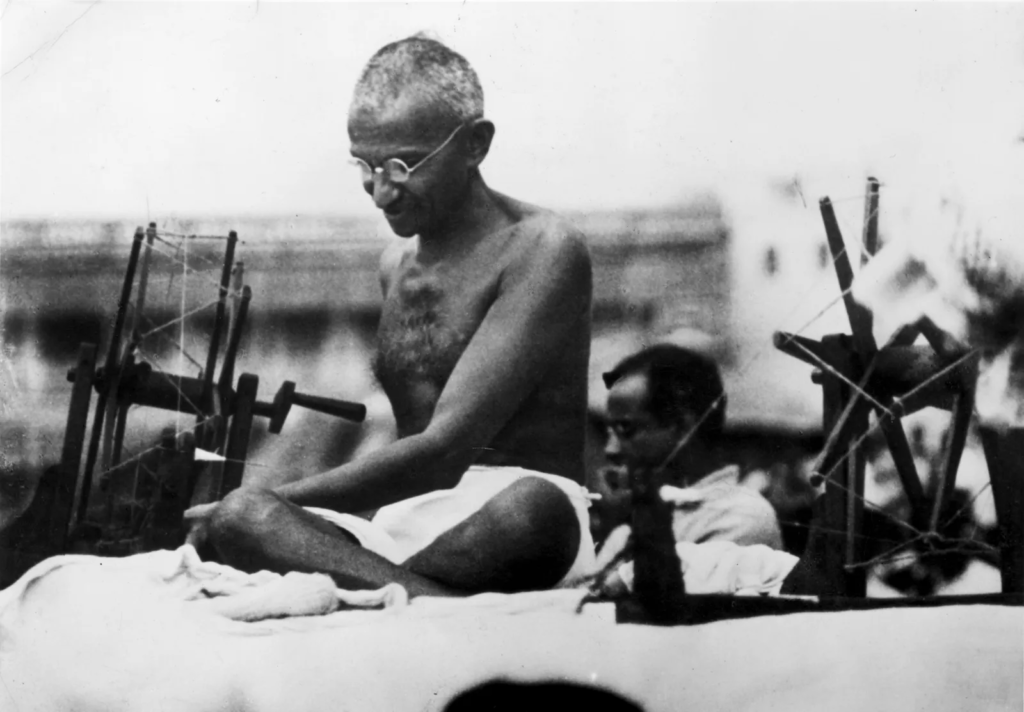 The excerpt from the seminal work of A.Ramasamy, Gandhi in Tamil Nadu, covers the tumultuous meeting at Madurai where Gandhi sat on a satyagraha to disperse the unruly crowd and some members of the crowd launched a counter-satyagraha to get a glimpse of Gandhi.
Gokul Prasad, a prolific young movie critic, reviews the movie, The Making of the Mahatma, and observes that Benegal's Gandhi possesses all the desires and disappointments of a common man. Sujata, known for wit and brevity, lists down ten aspects he liked about Richard Attenborough's Gandhi. S.Ramakrishnan reviews a lesser known movie, Road to Sangam, which explores the relevance of Gandhi in a contemporary atmosphere teeming with religious riots.
6
The Reminiscences section presents an impressive array of personal encounters with Gandhi and his associates.
Chinna Annamalai was introduced to Gandhi by Rajaji as 'the first person to have been rescued openly from a jail in the British Empire at noon by people who broke the prison walls down.' Though only a brief mention is made in this anthology, his story of jailbreaking is an unbelievable account, which has escaped the pages of history. He went on to edit Tamil Harijan.
A.K.Chettiar outlines his experience of shooting his documentary on Gandhi at Sevagram. He paints short, vivid sketches of the associates of Gandhi but he did not venture to personally meet Gandhi because he feared that Gandhi might decline permission to make the documentary!
Harihara Sarma, a friend of Bharathi and an erstwhile armed revolutionary, transformed and joined Gandhi's first ashram in India at Kochrab. He brings out the humanity and personal care of Gandhi while running the ashrams amidst various challenges.
Ambujammal shares a conversation with Gandhi on Catherine Mayo's book, Mother India, when he was reading it before writing of it as a 'Drain inspector's report'. He spurs her to take up social work to remove the lacunae pointed out by Mayo.
Periasamy Thooran and R.K.Shanmugam Chettiar narrate their experiences of hosting Gandhi when he stayed with them at Coimbatore on different occasions. Shanmugam Chettiar mentions how Gandhi took up the cause of a street vendor selling oil, whose oil cans were carelessly knocked down by a policeman. He witnessed this during his morning walk, took it up with a senior officer and made sure the police apologized to the poor vendor and compensated him for the loss.
T.R.Arunachalam was witness to the meeting between Gandhi and Alagappa Chettiar, who had leprosy. He opines that when Gandhi embraced him, Alagappa Chettiar was so moved that he became a lifelong philanthropist.
T.S.S.Rajan wrote a brilliant book on Gandhi's tour of Tamil Nadu in 1934, which he coordinated. In the chapter extracted here he narrates three contrasting incidents: an astrologer who insists on reading the palm of Gandhi is turned away stubbornly by Gandhi; despite Gandhi delivering his best speech on untouchability, the Naattars of Devakottai were unmoved; 'Gandhi Hotel' Iyer of Salem managed to convince Gandhi to visit his hotel, where no caste barriers were observed, but Gandhi couldn't enter the hotel due to the unmanageable crowds on the road. Gandhi Iyer went to Gandhi's car to garland him and donate to the Harijan Fund.
Saavi, a Tamil journalist, travels all the way to Noakhali to report on Gandhi's movement there. He knew neither Hindi nor Bengali. Gandhi tells him he could have donated the travel expense to Harijan Fund and sends him back.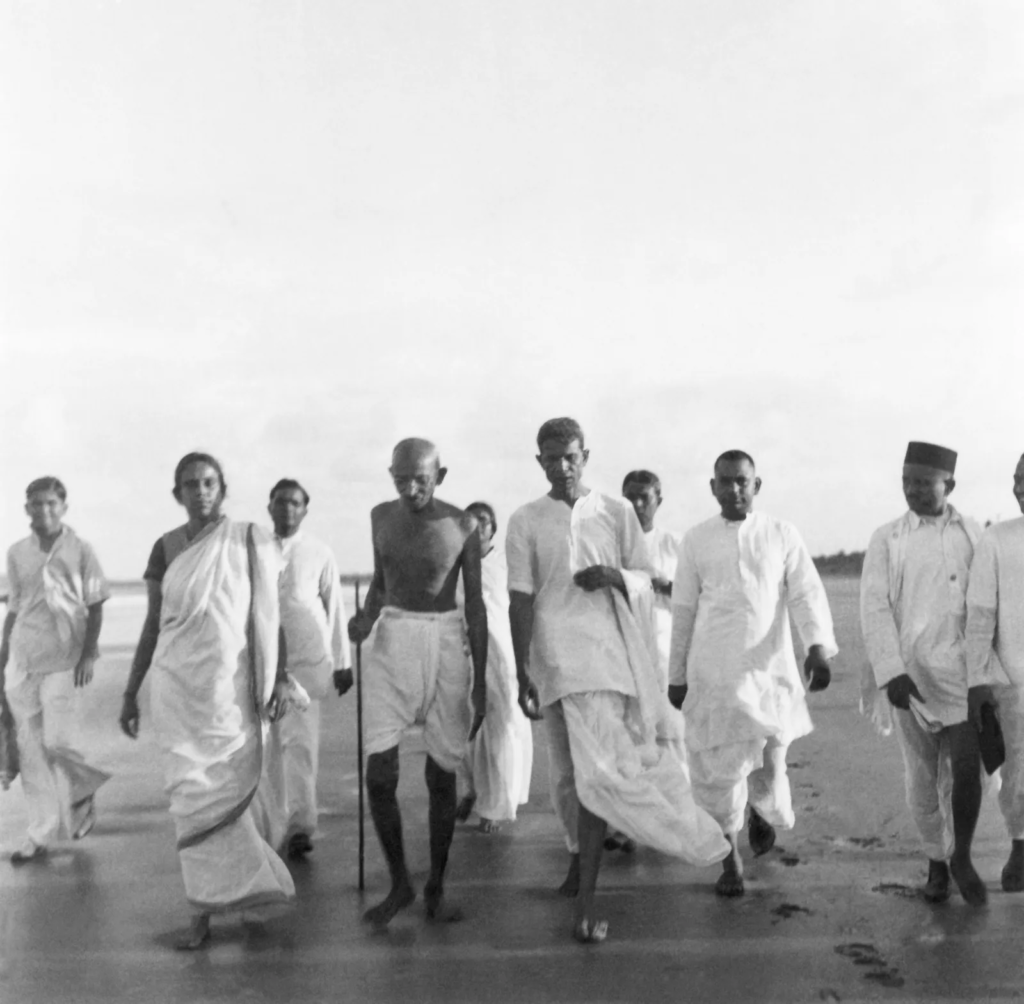 Avinashilingam Chettiar recollects how he was stunned to see Gandhi wading through muddy water in pouring rain for many kilometres to visit a worker at Maganwadi who had fallen sick.
Namakkal Kavignar sketches out the stormy meeting he had with Rajaji and Gandhi, when Rajaji changed Gandhi's tour plans due to other contingencies and dropped his visit to Karur and Gobi. Gandhi decided to sacrifice the days earmarked for rest and honour the prior commitments.
Venkat Saminathan remembers his experience as a young school boy, travelling for five miles along with a sea of people from his village to catch a glimpse of Gandhi at Kodai Road on the way to Madurai.
Finally, A.Muthulingam shares a humorous account of his conversations during school days with a friend who had photos of Gandhi and a postcard from him. Both Gandhi and Mahadev Desai had written congratulatory notes to the friend's parents before their wedding, on the same postcard to save money.
7
This anthology is fairly representative of the writings about Gandhi in Tamil but can be by no means exhaustive. While some amount of criticism is included here, there is a vast amount of criticism which has been left out. Gandhi has his share of critics in the Tamil world, from the right wing Hindutva writers, the leftists, the Dalits and the Dravidian movement. There is also no dearth of baseless vitriol poured on Gandhi. A few essays in the anthology are a response to those criticisms, and in some cases, slanders.
One of the key flaws in this anthology is the inability to identify the exact dates of each work. Many of them have been sourced from other anthologies, which also fail to mention the dates. Wherever possible, the dates are given. Also, there are only three women writers included in the anthology – Asalambikai, Choodamani and S.Ambujammal.
Translating the anthology was a great pleasure and a great challenge. There were a myriad of voices, which found unique expression in Tamil. There are popular writers, who wrote in large magazines in the simplest of languages to appeal to the popular audience, and there are serious literary writers, who wrote in a relatively complex style in little magazines for a small group of literary enthusiasts. There are those like Thiru.Vi.Ka. who employed a highly classical form of Tamil in prose and those like Annadurai who used a lot of rhetoric and rhyme in prose. Though I may not always have been successful, I have taken utmost care to, by and large, stick to the spirit, style and structure of the writings in Tamil, so that the distinct tone and style of the different voices can be felt in English too. A number of quotations by Gandhi were quoted in the Tamil works, often without citing the source. In most cases, I have traced the English source and reproduced the quotations from there. The references are given in the translator's notes under each work.
8
I owe my gratitude to Suneel Krishnan for entrusting me with the translation of this important work, and to Bharatiya Vidya Bhavan for publishing it.
Senthil Kumar (Quiz Senthil) helped with proofreading the first few parts of the book, offering valuable suggestions.
Paavannan gave me the initial thrust and confidence to complete this work after reading the translation of his essays. S. Ramakrishnan also wrote words of encouragement after reading the translation of his works.
N. Kalyanaraman gave his permission to include his translation of Devibharathi's novella, Farewell, Mahatma, in full. A chapter from P.A.Krishnan's novel, The Muddy River, is taken from his original English novel. Nakul Vasan, the author of the short story, Ecce Homo, has translated it into English himself.
It is Gandhi, who inspired our little family to move to a village and almost the whole of this translation was done in the village. I would not have been able to complete the work if my wife, Nedya, had not taken on the complete responsibility of looking after our farm during the long periods when I was immersed in this work.
*
Mahatma Gandhi in Tamil literature, An Anthology of Writings on Gandhi in Tamil Literature, Published by Bharatiya Vidya Bhavan, Volume Editor: Suneel Krishnan, Translator : Kannan T, Series Editors: G.N.Devy, Shyam Parkare.